Book accommodation in these Halloween towns on Agoda.
This post is all about the best places to go to for Halloween worldwide.
Halloween has always been most people's favorite holiday, and it's been on everyone's bucket list to celebrate Halloween, including in various spooky destinations in the US and abroad. Something about the resounding fall leaves and crisp, cool evenings of October always gets everyone excited for Halloween. And most like to celebrate all month long!
There are several places around the world with unique and memorable Halloween celebrations. Below are some of the finest places for Halloween to acquire an unforgettable experience.
But before we take you through the best towns to celebrate Halloween, we should first understand how it all began. Then after that, we will give some tips on how you can host the best and most festive Halloween party.
History of Halloween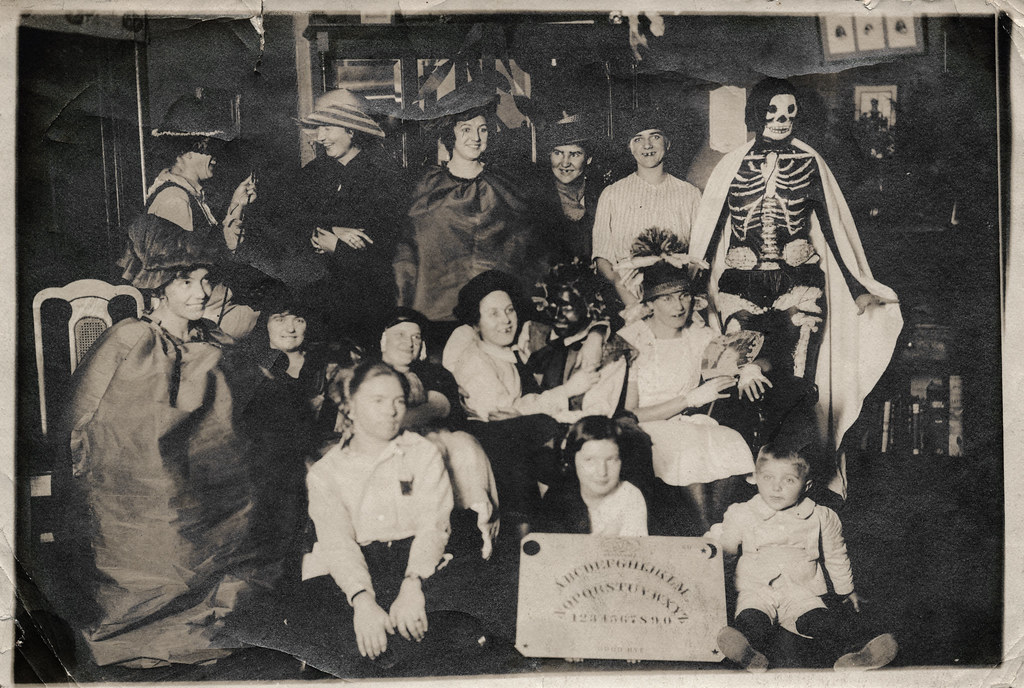 Before you take a tour to a faraway land to experience new traditions, it's fun to learn the history. Halloween has developed from the ancient Celtic tradition of Samhain, which observed the end of the harvest season and the start of the "darker half of the year" (a.k.a Winter).
Samhain, which is held on October 31, is approximately halfway between Autumn Equinox and Winter Solstice and is one of four holidays that denote the midpoint between solstices and equinoxes throughout the year, while the three other "quarter days" are Imbolc (February 1), Imbolc (February 1), and Lughnasa (August 1).
In ancient times, Samhain was likely honored with large gatherings & banquets and possibly bonfires & sacrifices. Moreover, large grave mounds were open to represent portals to the otherworld. It is a western pagan holiday that some Celtic neo-pagans, Wiccans, and other groups still praise.
All Hallows' Day, also known as All Saints' Day, is celebrated on November 1. It is devoted to "all saints, known and unknown," to honor those with no dedicated holidays to glorify them individually.
Today, Halloween as we know it takes on numerous different importance for people from varying backgrounds, beliefs, and cultures. So, how and where do you want to celebrate this festivity this year? We think any of these places will offer you much in the way of chills and thrills.
Best Places in The World for Halloween
We believe we'd help with your next new theme, – The Best Places to Go for Halloween, as we look ahead to the Halloween season. So, turn off the lights, grab yourself a comfortable blanket and get ready to go on a journey around the world with these ideas for the scariest and creepiest yet fun go-to's to celebrate Halloween.
Aokigahara, Japan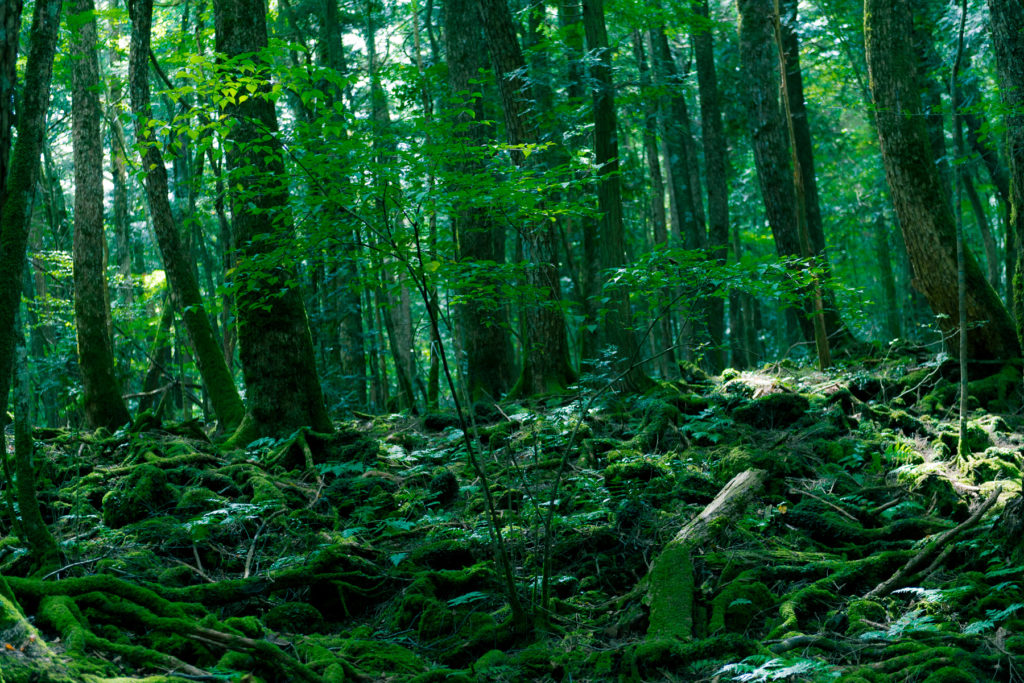 Japan uses the 31 October to boast exceptional cosplay skills, often at an incredible, energetic street party in Shibuya, Tokyo.
But before the nighttime festivity starts, spend the day somewhere really creepy: Aokigahara, better known as Japan's infamous "Suicide Forest".
The forest is a sea of trees located at the base of Mount Fuji. Stories claimed that over 500 people had wandered in, never to be seen again. The trees in this widespread suicide spot are so thick that wind does not pass through, and the floor is shrouded in darkness even at midday. The Japanese government has brought it upon themselves to complete an annual sweep of the forest for dead bodies, and in 2002, 78 dead bodies were found.
According to Japanese folklore, if a dead body is departed by themselves after suicide, the Yurei (Japanese spirit of the dead) will howl and cry constantly. These ghostly white forms are frequently witnessed flitting between trees by unsuspecting visitors.
For anyone determined to take a walk through Suicide Forest, beware, compasses are said to stop most of the time within the forest due to massive underground iron deposits. Or paranormal activity, we'll let you investigate.
Tijuana, Mexico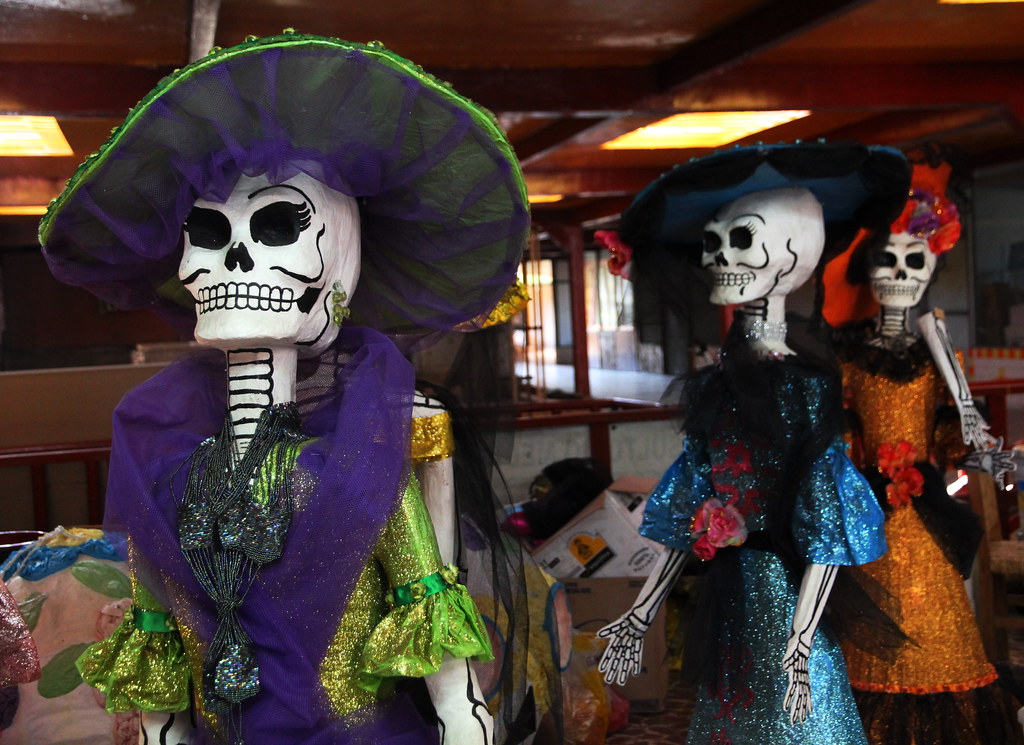 Day of the Dead (Dia las Muertos) has increased its popularity in America. It's held for three more days of Halloween, but everyone dresses up like skeletons, right? Not precisely.
That's like declaring that American cheese is, in fact, cheese. If you want to experience an authentic cheese holiday, go to France. If you want to experience Dia las Muertos, then head to Mexico. There is no closer (or more convenient) Mexican city than Tijuana, making it ideal. As soon as you step across the border, you will surely feel the festivity in the air.
It isn't a ghoulish holiday; it's an opportunity to reflect on those who passed and see them again. All the markets (like the Hidalgo Market) are bursting with ritualistic offerings to convey the dead to you. You'll discover marigolds because the spirits adore the smell, candy skulls to feed them after their long-winded journey, and the skeletons everywhere so they feel welcome.
The living does their part to create the reunion. All cemeteries come alive with tourists partying and picnicking, wishing to see their beloved ones one more time. You'll find mariachi bands, marigold sellers, and numerous families.
According to a local, it was in the middle of the day, but the party ramped up in the evening. Head to Tijuana for Dia Las Muertos with a curious mind, and try to witness what this holiday truly signifies for the locals celebrating it.
Salem, Massachusetts, USA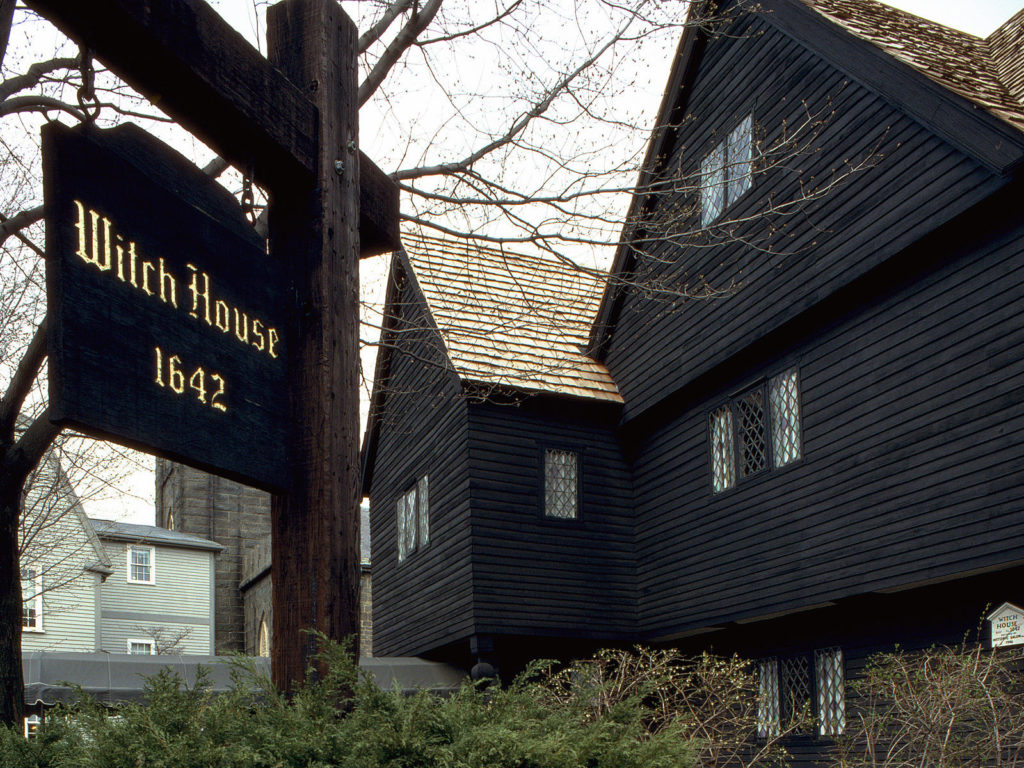 Salem, Massachusetts, glorifies Halloween like no other. It is exceptionally ghoulish as a colonial New England town known for its notorious tales of witchcraft during Halloween.
This north-of-Boston waterfront destination is recognized for its rich yore, grand museums, fresh seafood, and a bunch of shopping. Still, its year-round desire for the occult is the biggest attraction.
There are myriad "Haunted Happenings" in October to boost the Halloween spirit. The events serve various lures, from ghost tours, pumpkin walks, parades, family movie nights, and fireworks. There's even a Witches Halloween Ball.
Many shops provide tarot card readings, divination, healing crystals, and herbal remedies for those looking to the future. You'll also be stunned by how many homeowners get into the pleasure of macabre Halloween decorations. Eek!
You can take public transportation or the ferry from Boston or park your car for free at the Blaney Street Pier to get to Salem. Unless you have a broom, we discovered that the most accessible form to explore is hopping on and off the Salem Trolly. Plus, they tell great stories!
October in New England can be nippy, so dress in layers and wear shoes that will make you comfortable for walking in cobblestone-and-brick streets. If you're welcoming your inner witch (or warlock or werewolf) or just want to partake in the magic of Halloween in Salem, plan early.
You can expect large crowds in Salem during October, particularly on weekends. Hotels quickly fill up as much as a year in advance, and with Halloween falling on a full moon, Salem's sure to be frightful!
Paris, France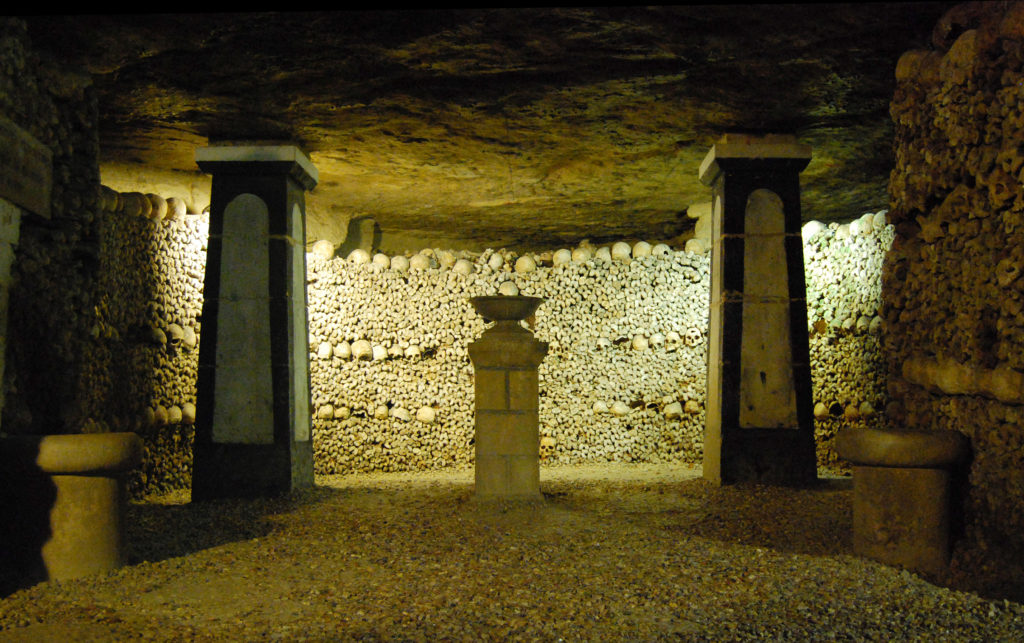 Nothing spells death like the scenery of bones stacked at one another. The Catacombs of Paris house 6 million bones from the 1700s. And it definitely has an eerie feel.
The necropoleis were overrun in the 18th century Paris and bodies had to be transferred to old quarries to protect the city's residents from the plague. It's not for the faint of heart, but you'll be astonished at the artistry if you glimpse past the bones.
After the Catacombs, head your way to one of the well-known cemeteries in Paris. Nearby, you'll locate The Montparnasse Cemetery, which shelters the graves of famous writers and thinkers such as Jean-Paul Sartre, Simone de Beauvoir, Charles Baudelaire, and Julio Cortázar.
The best cemetery and most prominent cemetery in Paris for soul seekers is Cimetiere Pere La Chaise. It accommodates the remains of Jim Morrison, Oscar Wilde, Chopin, Moliere, and Edith Piaf. Its massive mausoleums, dilapidated graves, and decorated statues make for an extraordinary, if not bizarre, experience.
You can guess why Parisians usually dress in terrifying costumes for Halloween with all that death and bones. They go all out for gore and welcome the tradition of ghosts, vampires, and ghouls over the satirical costumes they have adopted from North America.
Transylvania, Romania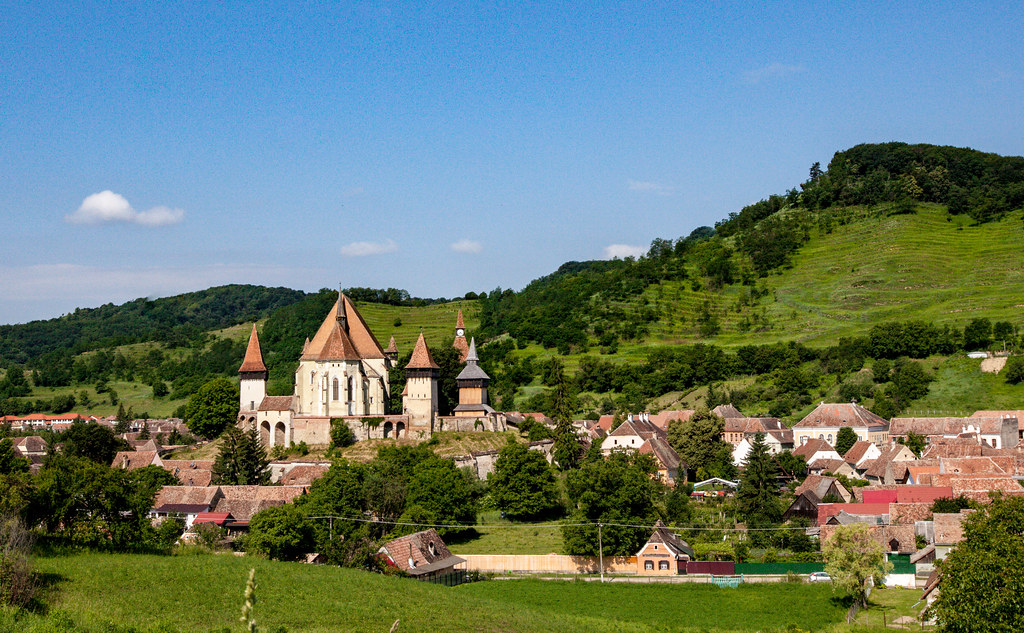 When we think of Halloween, we always think of Dracula. And what better place than to take a tour at Dracula's Castle in Transylvania. The Bran Castle, located near the city of Brasov, is Romania's national monument. It may be one of the numerous castles related to Dracula, but it is the most prominent.
How did the tale of Dracula start?
Well, ruler Vlad Tepes was known for his viciousness where he impaled, skinned, and moiled those who were against him and became known as Vlad the Impaler. Gruesome lore is bound to follow when you slaughter upwards of 100,000 people this way.
Today, you can partake in a party at Dracula's castle with a night tour of the castle and dinner. This year will happen in October. Check out their official website for more details.
There is also a Dracula film festival and Zombie walk in the nearby town of Brasov. With fairytale castles, rolling black ridges, and ancient cathedrals, Transylvania is surely one of the best places to celebrate Halloween.
Guatemala's Day of the Dead – Giant Kite Festival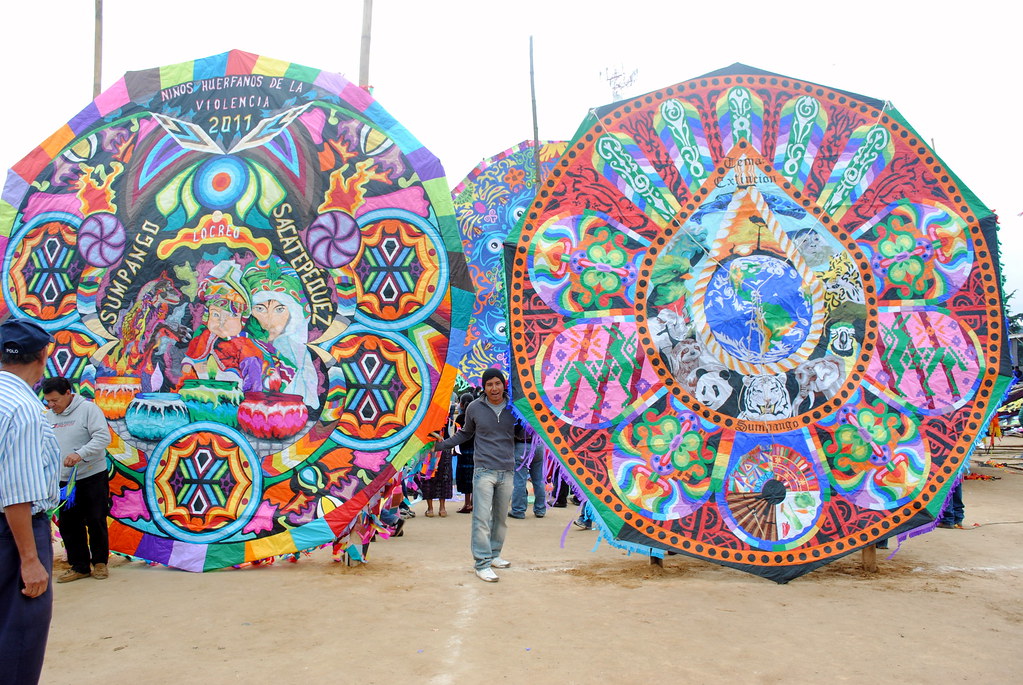 Unlike Day of the Dead celebrations in Mexico, where most of the rituals are being held in cemeteries, in Guatemala, the most dazzling Dia de Muertos festivities happen on the hilltops of the mountainous highlands, just outside of Guatemala City. On November 1st of each year, Los Barriletes de Sumpango, or Giant Kite Festival, is one of the most significant celebrations for the Day of the Dead in Guatemala.
The main thing to do after seeing the gravesite of one's family ancestors is to experience the Los Barriletes de Sumpango in Sumpango. It is a hillside town in the Guatemalan department of Sacatepéquez near Antigua where groups of kite-fliers of all ages hoist gigantic, colorful kites into the sky.
The sentiment is that the kites bring messages to the spirits of departed ancestors. It's a lively atmosphere with hundreds of colorful kites, masses of participants, and onlookers dressed in formal indigenous Maya clothing, food vendors, dancing, and music.
During these Day of the Dead festivities, one of the best things to enjoy is fiambre. It is an enormous salad with meat, marinated vegetables, boiled eggs, and cheese.
The Island of Dolls, Mexico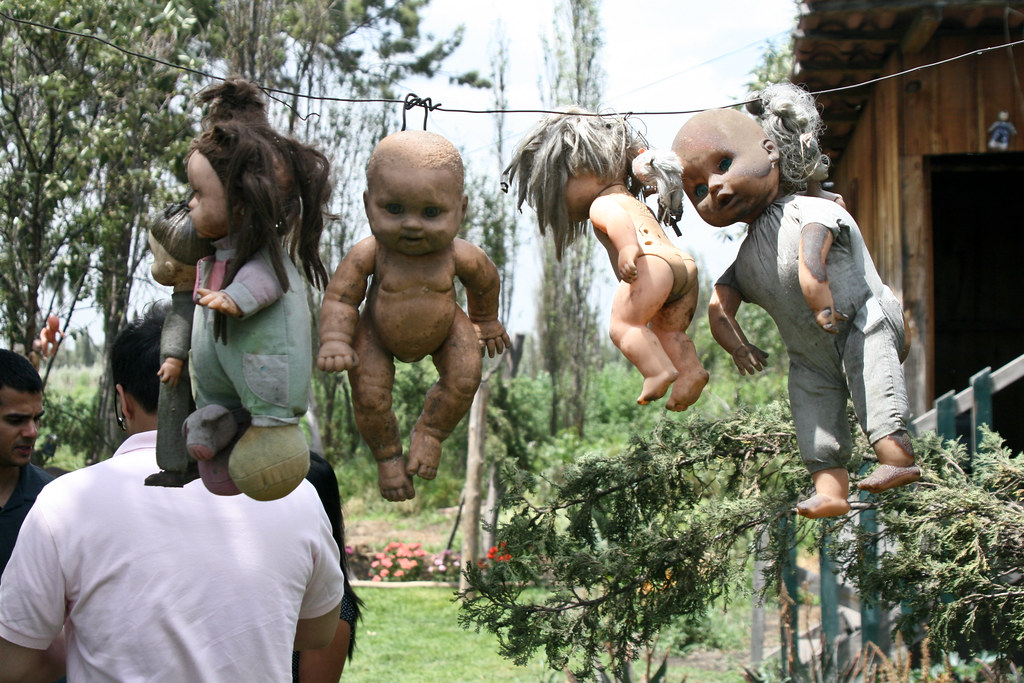 Known as La Isla de la Munecas by the Mexicans, this small island, concealed within a network of canals south of Mexico City, will also give you the creeps. Almost every tree on the island is decorated with mutilated dolls hanging from the branches, making you feel constantly being watched.
The story behind these mysterious scenes begins with a hermit called Don Julian who moved to the island, where he devoured the last 50 years of his life. Don Julian was tormented by the spirit of a girl who drowned in one of the canals and gathered dolls and spread them around the island to calm the tortured soul. Later on, Don Julian was found dead after drowning in the same canal.
Visitors to the islands have proved that the dolls whisper and you must present a gift to them once stepping foot on the island to calm their spirits. It goes without saying: a super frightening place to spend Halloween.
Of course, Dia de Los Muertos is held on the 2nd of November throughout Mexico and Latin America and is well worth the experience.
New York City, USA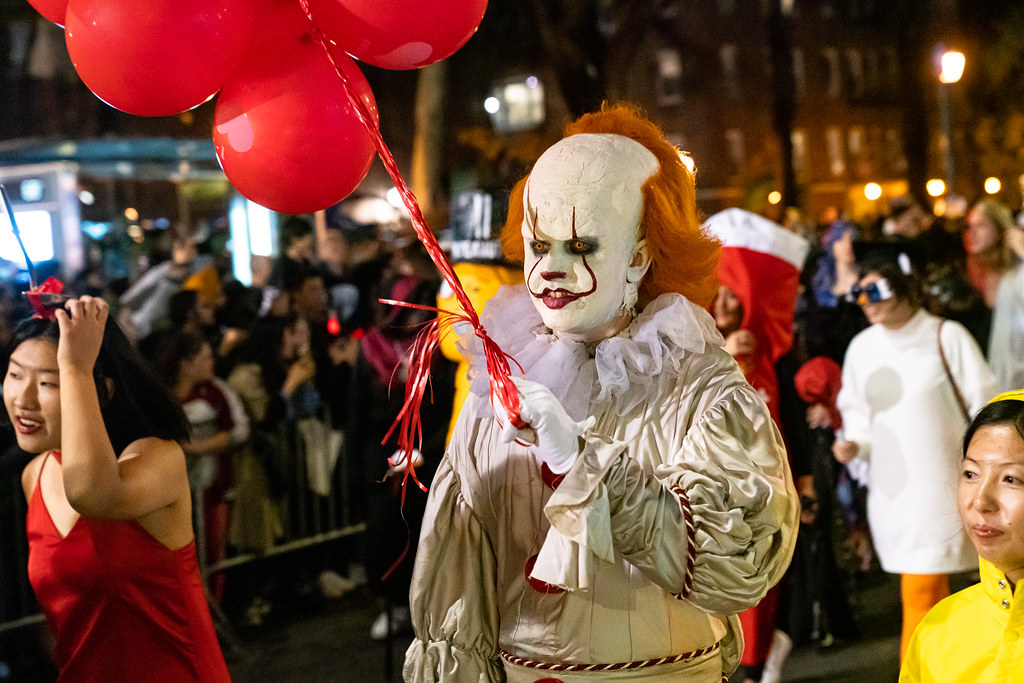 New York City and its surrounding area are the best places to experience Halloween. There are brutal haunted houses that open for the season, creepy ghost tours, and, in Croton-on-Hudson just north of the city, the Great Jack o'Lantern Blaze, in which thousands of carved pumpkins are set to produce incredible displays.
However, the piece de resistance is the celebrated Halloween Parade in Greenwich Village. It may be hard to Trick and Treat in NYC, but on Halloween, thousands of people blaze the village's streets to get a glimpse of about 50,000 people parading through the streets of New York in colorful costumes.
The parade route starts north along Sixth Avenue. It begins at Spring Street at 7:00 pm and commonly goes until about 10:30 pm, ending at 16th Street. Capture a spot early to obtain great views. There are soaring puppets along the way. It is packed with people in intricate costumes going from drag queens and characters from horror movies and current political occasions to more classic witches and goblins.
Watching the parade is delightful, but this is New York City, where it's even more fun to partake in the parade yourself. You are free to join, and there is no registration. Just make sure to dress up in your spookiest, funniest, or cleverest costume and head to Canal Street between 6:30 pm and 8:30 pm. You'll find that there is nothing quite like it!
Edinburgh, Scotland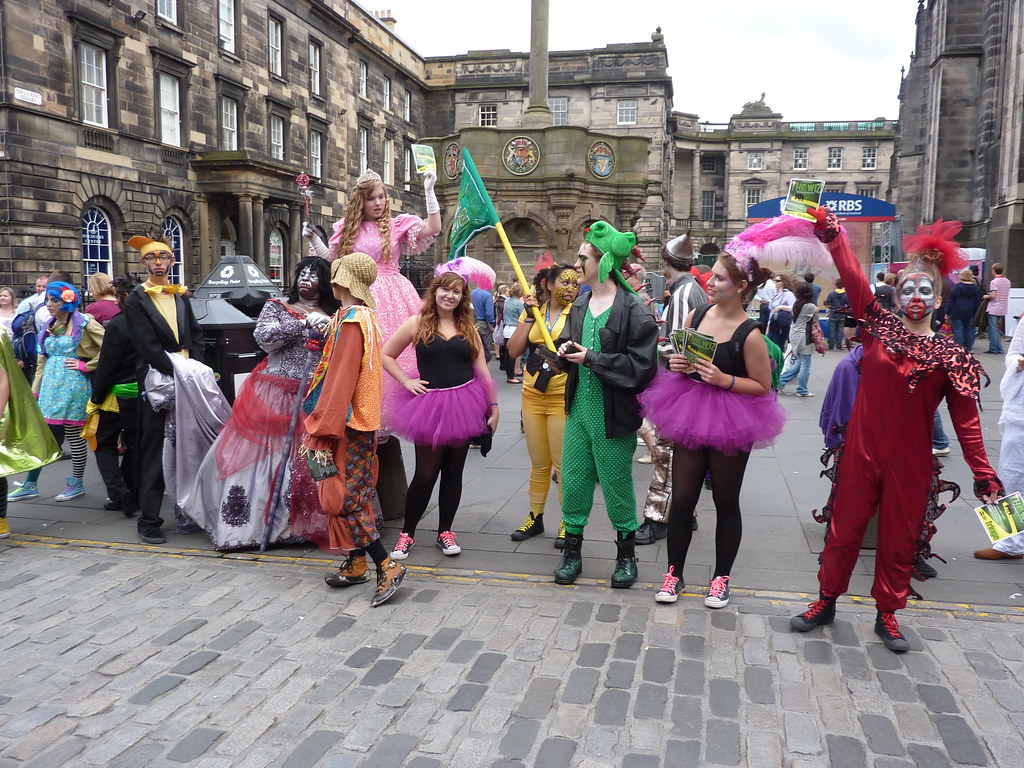 Halloween is witnessed universally as an American celebration. Still, it began as a Celtic festival called Samhain (pronounced sow-in), celebrating the shift from summer into winter and the battle between the demons representing both. It is still honored annually in Edinburgh with the Samhain Fire Festival.
The festival is conducted by the Beltane Fire Society and sees a phalanx of stunning mythical creatures beating drums and breathing fire as they head their way down Edinburgh's historic Royal Mile to West Parliament Square. Here, a breathtaking war between Summer and Winter takes place. No tickets are required, but a donation to the demons jerking buckets is much appreciated.
If you're an individual who's after more traditionally creepy in Edinburgh, spend a night in the city's supposedly-haunted underground vaults. They're said to be home to numerous spirits and reported high paranormal activity.
The vaults are home to various of Edinburgh's oldest ghostly tenants, from Mr. Boots, a nasty piece of creation who drives people's shoulders and whispers profanities in their ears, to Jack – a small boy who pulls trousers and throws stones around the deep tunnels. Accounts of old Scots Gaelic have been taken in the vaults, and a cobbler has been photographed lounging in a corner.
Spending a night in the vaults is not for the faint of heart. Individuals have come out with unexplainable bruises and injuries and encountered the fright of their lives.
Palermo, Italy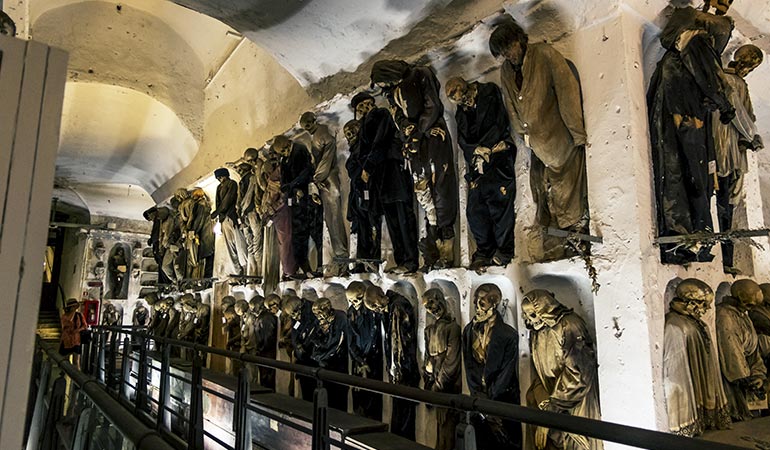 The Capuchin Catacombs are a weird gallery of the dead, definitely not for those with a weak stomach. Thousands of mummified bodies and skeletons have lined the walls of these catacombs, much more like paintings, clothed in a collection of outfits and arranged to look like they have lives of their own.
For a bit of a shock, make sure you see the Capuchin's Sleeping Beauty, pristinely maintained behind glass. She'd pardon you for thinking that she's just taking an afternoon nap, except she died due to pneumonia in 1920.
The catacombs were created in the late 16th century when monks ran out of rooms in the cemetery. The atmosphere in the underground area turned out to have excellent conditions for preserving bodies, so much so that some of the oldest skeletons still have their skin and hair.
The walking tours are available all year round, but the three-hour experience is quite spine-tingling on 31 October.
New Orleans, USA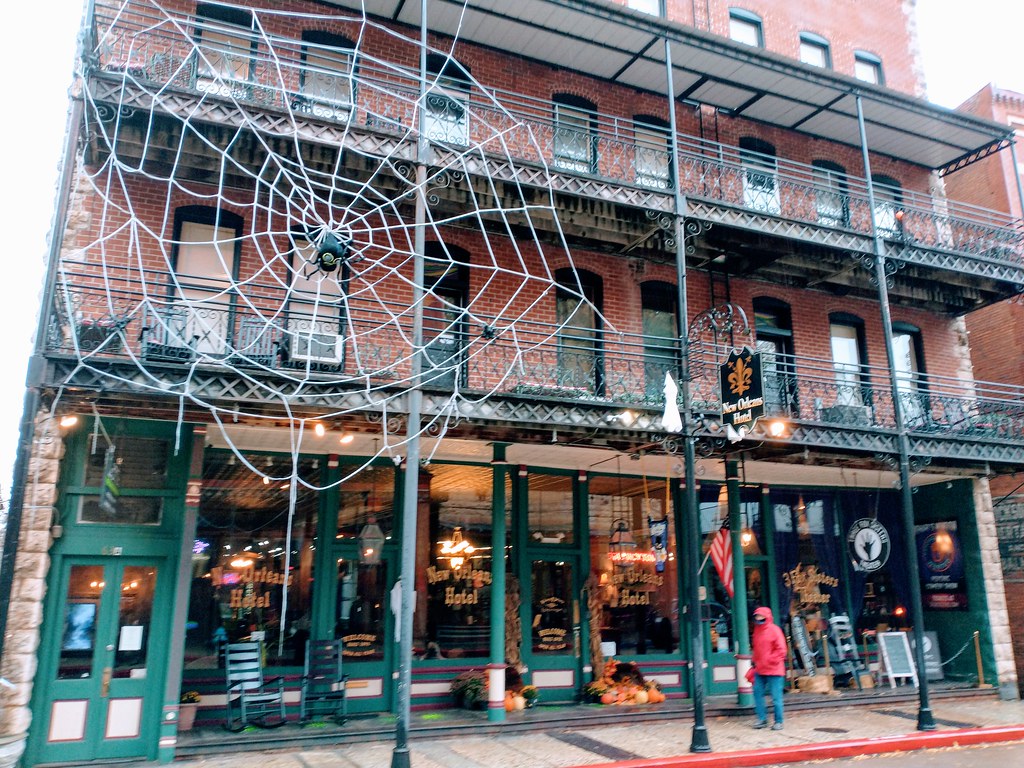 New Orleans is the "most haunted city" in the United States, and it is ideal for a good scare. This city was founded for hauntings.
With the excellent blend of water, weather, and wind for a haunting, New Orleans indeed takes the cakes. Haunted places are generally surrounded by water, and New Orleans is not just a coastal metropolis. It is eradicated in water from Lake Pontchartrain to the Mississippi River.
Make sure to take a Haunted New Orleans ghost tour to learn about the haunted hotels, voodoo history, and beautifully scary cemeteries. The St. Louis Cemetery calls for a stop to the tomb of the Voodoo Queen Laveau. They said any wish would come true if you touched her grave and made a wish.
The graveyard is only open until 3:00 pm. Though during Halloween, you can visit the cemetery by day and beat the Endless Night Vampires Ball, voted the number 1 ball in the world!
Ottawa, Canada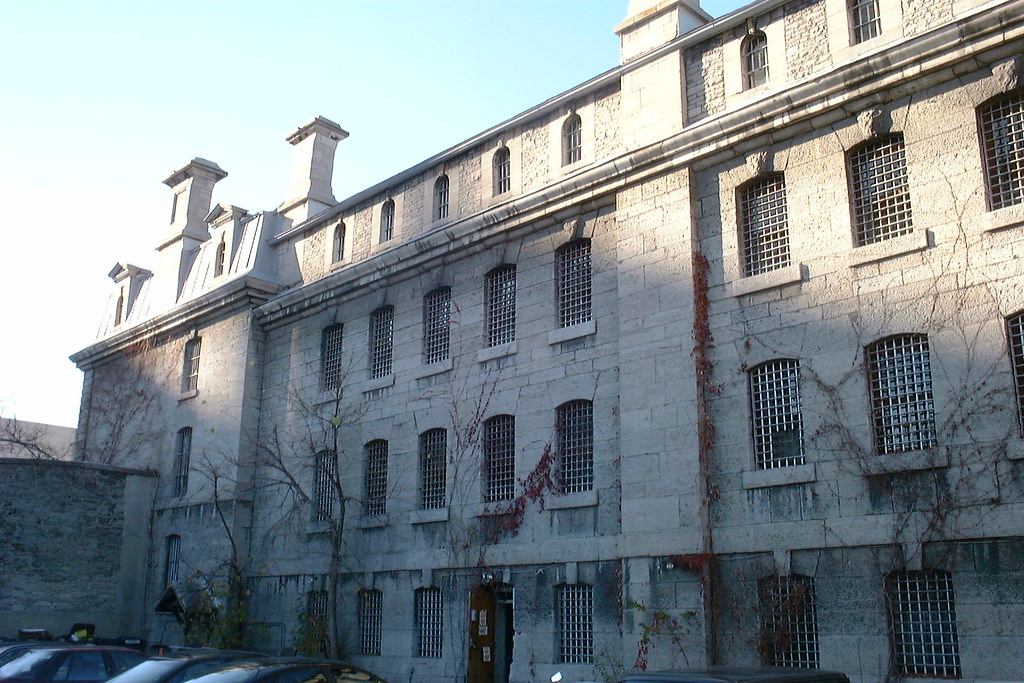 Ottawa has an abundance of hauntings, but several haunted tours are closed. Canada has been more stringent than other countries regarding crowds. But when 2022 rolls around, you surely don't want to miss visiting Ottawa at Halloween.
The scariest haunted tour you may take is at Laurier House. You'll surely leave the grounds screaming when you go to the Haunting at Laurier House.
Laurier House was home to Canadian Prime Minister Sir Wilfred Laurier, who had a special interest in the world of spirits. He kept seances there regularly. No cameras or video are allowed.
Laurier House isn't the only spooky thing to do in Ottawa for Halloween. The Escape Manor is a fun and creepy escape room that will take you into the Asylum Escape Room, where you have to overcome one obstacle after another to get out. Don't worry; there is an emergency button that you can press anytime if you become too scared.
Escape Manor includes four different escape rooms to test your escape artists' skills.
Try staying over in a jail cell if you want a real fright. When the Ottawa Jail closed in 1972 due to its inhumane state, Hostelling International bought and converted it into a hostel, allowing people to "spend a night in jail."
You might discover several unmarked graves in excavations, and it was here that one of the last public hangings (if not the most well-known) in Canada took place. It is closed at the moment, but when it opens back, make sure to book this frightening tour in search of the ghost of Patrick J. Whelan, who still wanders the grounds and haunts the walls of the hostel.
Hong Kong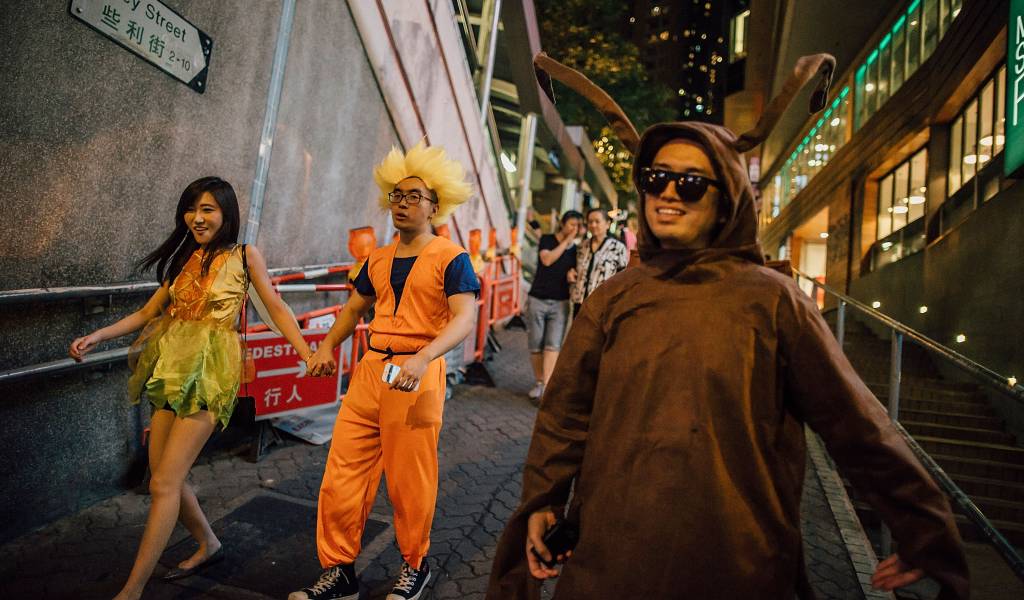 Hong Kong is the location where two worlds coincide. Hong Kong has a few distinctly Western celebrations while firmly located in Asia and full of Chinese culture and traditions. For example, Hong Kong is a beautiful place to celebrate Halloween. You'll surely go so far as to say it is the best place to celebrate Halloween in Asia.
Unlike in many other countries, Halloween in Hong Kong is best appreciated by teenagers or young adults. There are countless parties around town, but most of them involve drinking and partying into the wee hours.
The biggest is in the notorious Lan Kwai Fong area, found in and around Midlevels and Central. The whole area is stuffed with partygoers in spectacular costumes who wander from bar to bar, stopping for a few selfies and many drinks. The whole place is so packed that they have to employ a one-way system!
If raucous bars aren't your thing, or you are a little younger, you can go to one of Hong Kong's theme parks to celebrate. There are two options. Hong Kong Disney pitches its annual "Mickey's Not So Scary Halloween" for young children. It is the same worldwide, less scares and more attractive furry spiders.
Alternatively, we would highly suggest a trip to Ocean Park for older kids and teens (and maybe a few childless millennials). It is Hong Kong's independent theme park, and the entire place comes to life for Halloween.
Gigantic stages are erected for incredible dance shows, walk-through attractions scare the living daylights out of you, and the frightening characters wander the areas between the rides. Great fun for almost the entire family!
Sleepy Hollow, New York, USA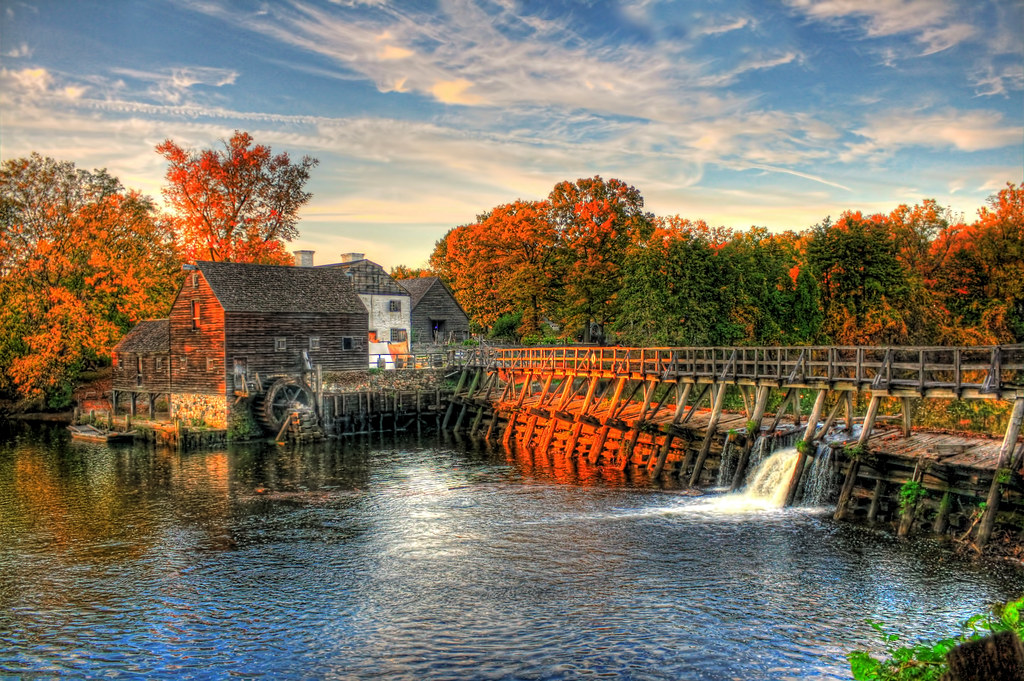 About one hour's travel north of New York by train, you'll discover the small village of Sleepy Hollow. Just by reading the town's name, you can presumably already sense it's a wonderful place to get the Halloween spooks. And it indeed is!
For centuries, the town is said to have been tormented by the Headless Horseman – the protagonist in Tim Burton's Sleepy Hollow movie. The Headless Horseman executes a series of murders in the town.
You must visit Sleepy Hollow during Halloween and explore its haunted mansions, such as Kykuit or Philips Manor. You should also see the Great Jack O'Lantern Blaze and take a ride on a haunted hayride. Walk through the street fair and experience some live music. But be sure to watch out for the headless horseman who gallops through the town, scrutinizing for his next victim!
Other activities you can partake in include taking a tour of the town cemetery or even a time of the Haunted Hollow. The latter is a spooked trail where numerous Haunted Horseman's crimes took place. If that's not enough for you, you can watch a theatrical reenactment of the Sleepy Hollow story.
Be sure to bring a buddy close by with you at Sleepy Hollow because it's a terrifying place.
Derry, Northern Ireland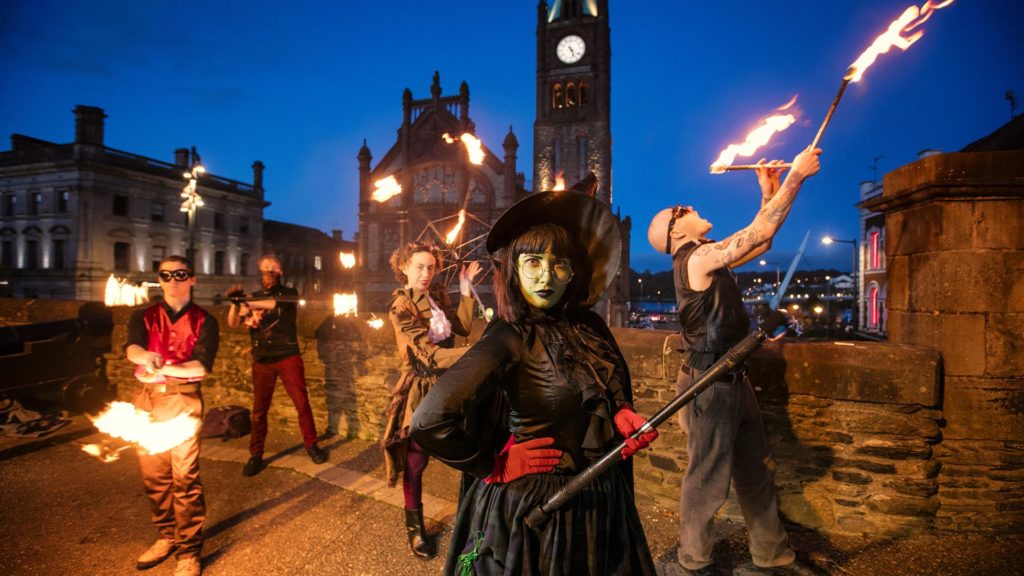 So it may astonish people that one of the best places you spend Halloween is Derry (also known as Londonderry) in Northern Ireland. It was voted the number one Halloween destination globally by the USA Today in 2015, so you have to go and check it out for yourself.
And may discover that Halloween in Derry is definitely a celebration that everyone must partake in at least once in their lifetime. The whole city is converted into a stage of spooky and creepy facades where everyone joins in.
The 17th-century city walls come to life with Awakening The Walls, a string of performances, storytelling, light shows, and frightening encounters that you will experience as you follow the borders. Ghostly drummer performances, Jack O'Lantern workshops, and the stunning Return of the Ancients parade are events that you must not miss.
Why Do We Celebrate Halloween?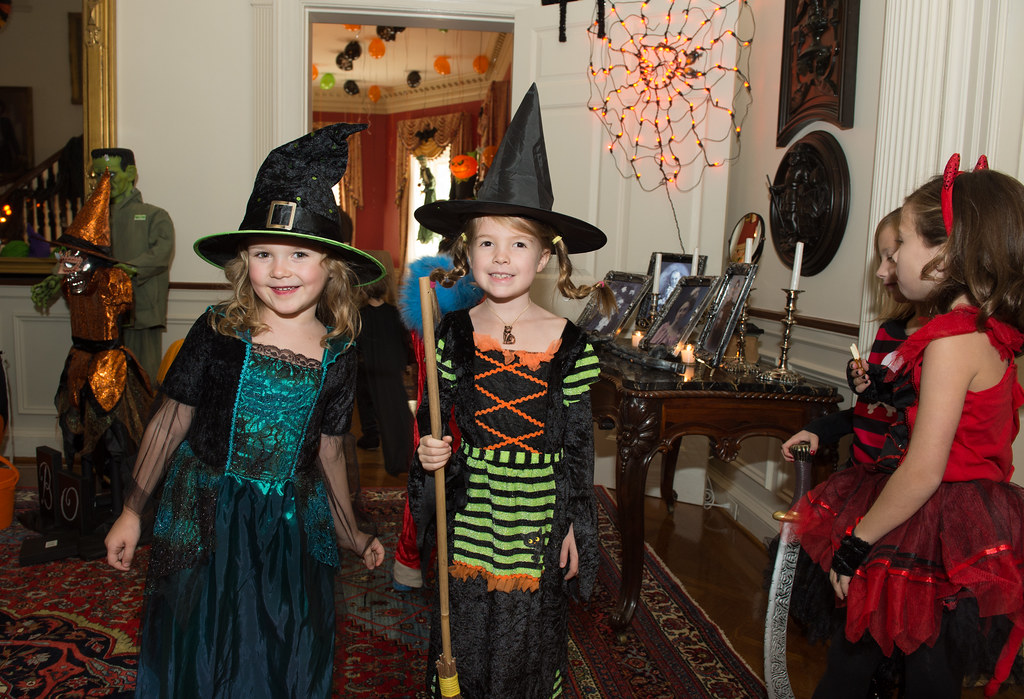 You can trace Halloween's roots back to the ancient Celtic festival known as Samhain, carried on November 1 in contemporary calendars. Many considered that the souls of the dead would come back to their homes on that day, so people clothed in costumes and ignited bonfires to ward off spirits. In this way, famous Halloween tropes such as ghosts, witches, and goblins became incorporated with the holiday.
In the 7th century CE, Pope Boniface IV started All Saints Day, initially celebrated on May 13. A century later, Pope Gregory III pushed the holiday to November 1, likely as a Christian replacement for the pagan festival of Samhain. The day before the saintly festivity became known as All Hallows Eve, or Halloween.
Though the holiday started in Celtic regions of Ireland, the United Kingdom, and France, it promptly spread to other world domains. The foremost American colonists in New England were prohibited from celebrating it for religious reasons, though it relished popularity in the Southern colonies. By the 1800s, fall festivals celebrating the seasonal harvest contained Halloween elements, and Irish settlers escaping the devastating Potato Famine carried many Halloween traditions today.
The tradition of trick-or-treating, in which children dress up in costume and demand treats from neighbors, became widespread in the United States in the early 20th century as Irish and Scottish residents resurrected the Old World custom of "guising". Here a person(adults and children) would dress in costume and present a joke, recite a poem, or execute another trick in exchange for a piece of fruit or other treats.
By 1950, trick-or-treating for candy evolved into one of Halloween's favorite activities. Today, Halloween is one of the immense holidays for candy sales in the United States, surpassing $2.5 billion yearly.
How to Host a Fun and Festive Halloween Party?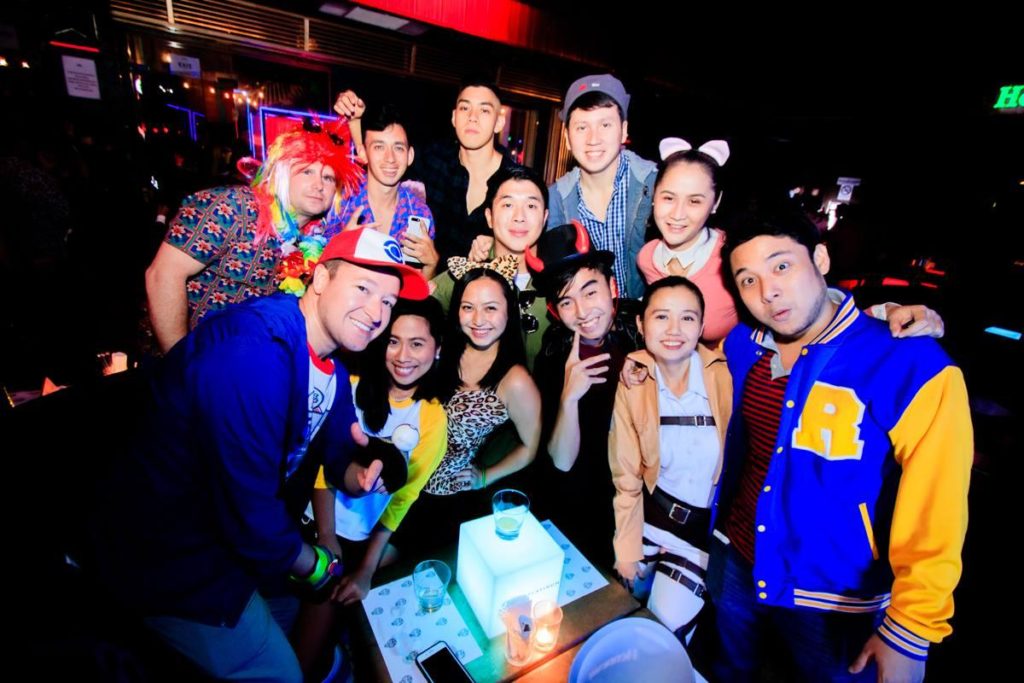 Invitations: check. Music: check. Costumes: check. What is more, required for throwing a good Halloween party? Lots!
But the great news is, it's super easy to throw a small and private gathering for adults that is lively and stylish. Have your guests converse for years to come with these easy and joyous Halloween party ideas.
The Planning
Even if Halloween is packed with treats and tricks, hosting a small gathering this season doesn't have to be problematic! We'll cover everything required to make your Halloween party breathtaking with these important to-do's:
Set a date and time: Make sure you schedule your date and place ahead of time. Occasionally, Halloween doesn't fall on a weekend, so prepare accordingly! Also, choose where you'll be hosting your get-together to make designing the rest of your details a breeze.
Pick a theme: Once you've prepared the date and location of your Halloween party, choose your theme! Some good theme ideas possess "Freak Show", "Haunted House", "Autumn Harvest", or "Hollywood Horror," to quote a few. Get clever with it!
Send invitations: Now it's time to send those invitations. Use your DIY skills and make some memorable and bizarre invites for your guests. It is also a perfect time to note if your party will be practicing social distancing.
Select or make your decor: Begin planning your decor pieces according to your theme. Whether you intend to go shopping or DIY, the possibilities are endless.
Put together your menu: It's not a party unless there's food and booze! Make sure to include your well-planned food and drink ideas in the party, so you don't have to run for last-minute shopping or cooking. You can even make a pot-luck list if you desire your guests to contribute.
Plan activities: Make a list of socially distance-friendly activities your guests can appreciate at the party. It will guarantee everyone will have something to entertain and make your party memorable. Make sure you have proper activities planned depending on if you're hosting a party for adults or if it'll be kid-friendly.
Put Some "Vibe" to It
If you want your fun and spooktacular get-together to stand out truly, include whimsical yet sophisticated décor pieces and finishing touches. These details will transform your Halloween party into a frightful but fun holiday event, from festive centerpieces to fall flowers.
Creepy candles: Add a twist to your standard candles and light up your table with antique-style candle holders or even place them in wine-turned-potion bottles to set a spooky mood.
Entryway party turns: Place some cute bags with fun treats and stuff them in a bowl near your front door for a charming and welcoming surprise.
Tableware: Prepare plain white serving dishes to include pops of orange and black like striped straws, paper plates, napkins, and fabulous drink glasses.
String lights: String up some white sparkle lights to set a mystical mood. Hang lovely orange and black DIY tissue pom poms from the lights to hook in the Halloween theme.
Candy: Halloween candy is a great way to embellish the table and gives guests some tasty treats to nibble. Fill clear glass containers with masterpieces, like candy corn and candy pumpkins, and add trimmings, like spooky printable tags that say, "Boo" or "Happy Halloween!"
Florals: A must for every table background is a floral centerpiece. Go for something joyful and beautiful with fall flowers for this special occasion.
Paper jack-o-lanterns: Fresh pumpkins, although a staple, is undoubtedly chaotic. Avoid clean-up tasks and make them out of paper! Then, string them up around your party for some added festive decoration.
Succulent centerpiece: Season up your table with a DIY juicy pumpkin centerpiece. Pumpkin succulents are a fantastic way to boost your favorite succulent variety at the party.
Paper bat garland: Cut out paper bats and stick them to string with clothespins. Then, tie them around your doorway.
Spider web placemats: Elevate your table with DIY placemats made of parchment paper and puff paint. Using the puff paint, create web shapes onto the parchment paper. Let it dry overnight, and then remove the paper off the back. Put the mats under clear plates to present your craftiness.
Exalt your bar cart: A bar cart is always a lovely touch for a party and an ideal piece to showcase your fun-themed drinks and DIY Halloween decorations.
Tip: Don't be scared to DIY! Decorating a Halloween party doesn't have to be pricey, and making decor yourself is an enjoyable activity to enjoy with your friends or family.
The Best Way is Through Their Stomach
Halloween and sweets are pretty much interchangeable with one another. Here are some austere yet adorable treats and appetizer ideas for your Halloween party.
Pumpkin pie cheesecake dip: Fall is all about pumpkin tastes, and it'll sure be a sensation at your Halloween party. Create a sweet pumpkin-flavored cheesecake dip and present it in a pumpkin-shaped dish with some pretzels or graham crackers for dipping.
Mummy brie: Rev up your Halloween party with a yummy cheese and cracker platter. Wrap puff pastry around brie for a tasty mummified look to fit the theme.
Scary sugar cookies: These are simple and great in a pinch. Cut out some dough using Halloween-themed cookie cutters and frost them the way you like!
Candied apples: For a twist on the classic candied apple, serve "poison" apples with all-black toffee rather than caramel.
Candy corn cupcakes: Create candy corn-themed cupcakes with orange and yellow batter. Then, top it with light marshmallow frosting and candy corn pieces.
Monster pizza bites: Everyone loves to eat pizza! make your own pizza bites, then serve them as excellent finger food. To give some Halloween touch, put black olive slices on top for the eyes.
Spooky spinach dip: Amongst all the sweets you may include at your party, make sure to include some veggies! Create your favorite spinach dip and set it in a bread bowl-shaped into a cauldron. Serve them with pumpkin-shaped tortilla chips.
Mummy meatballs: The most delectable party bites get a Halloween twist. Wrap the meatballs in strips of dough to look like mummies and bake in the oven. Serve them with your favorite condiments for a tasty appetizer.
Tip: Since guests are likely to socialize, foods you can eat with your hands are perfect. Also, be sure to balance the amount of sweet and savory foods you're preparing!
"Punch" It
What's a party without having some booze? You should include a drink list on your Halloween party ideas. A full bar is always ideal to have when hosting a party. Here are some of our perfect Halloween-themed boozy cocktails and non-alcoholic refreshments:
Dragon's punch: A party must always have a punch bowl. To bind in fall flavors and spices, create a spiced-pomegranate punch with rum. The blood-red color will be exactly on par with the Halloween theme.
Halloween hot cocoa: This Halloween hot cocoa is excellent for cold nights, non-alcoholic, and a perfect option for the kiddos. Make classic hot cocoa, but add some drops of green food coloring. Add some orange or purple marshmallows or some creepy gummy worm candies to boost it even further.
Cider Sidecar: There's no such thing as too much apple cider this time of year. Elevate your favorite sidecar cocktail formula with apple cider.
Witch's Brew: Bring any soda or beer bottles, create a DIY label that says "Witch's Brew," and place it around the bottle for a unique twist.
Pumpkin spice White Russian: Step aside, pumpkin spiced latte! Present this fan-favorite autumnal ingredient into a traditional cocktail like a White Russian.
Black Magic Margarita: Create a classic margarita, but add some black and red food coloring drops to acquire an eerie black look. Then top it off with lime for garnish.
Ditch the martini glasses: Replace your classic martini or cocktail glasses with some vials. For a frightening flare, paint affordable candelabras black and set the vials inside.
Bloody Mary syringes: Every Halloween party requires a little blood. Step up a classic bloody mary recipe and serve them in syringe shooters.
Halloween ice cubes: Polish off any quencher with Halloween-themed ice cubes. Freeze some olives into ice cubes for "eyeballs," or freeze some gummy worms or plastic spiders into ice for a creepy shock!
Tip: Have enough non-alcoholic drink alternatives at your party, mainly if kiddos are around.
The "Fun" Part
Making sure to prepare enough things to do at a party is essential! Here are some ideal Halloween party activities that are fun for adults and will also keep any kids engaged:
Scavenger hunt: Bring joy and adventure to your Halloween party with a themed scavenger hunt. Split your guests into teams to hunt for objects on the list. Whichever team succeeds gets to enjoy a nice cold drink.
Horror movie trivia: Play a drinking game or film trivia with classic scary flicks.
Candy corn toss: Sweets are just as a pleasure to play with as they are to eat. Like the traditional ring toss game, make it memorable and turn cones into candy corn using spray paint.
Apple bobbing: Restore this classic game of apple bobbing that kids adore. Switch out the water for white sangria to bring it to the next level for adults!
Halloween charades: This activity is excellent if you're hanging out with many friends or if you're with family members. Just switch in Halloween-themed phrases and clues!
Mad scientist guessing game: Cut a hole in a box or stuff non-transparent jars with funky-textured edibles. Let your guests speculate what's inside by using their hands to feel what's inside.
Halloween pinata: Include some candy-filled pinatas for the kids, or load them with mini bottles of alcohol for a more adult-friendly pinata.
Murder mystery: If you are hosting a large group, arrange a murder mystery game for a chilling touch to your party.
Tip: Be sure to incorporate these fun Halloween party ideas and activities with a playlist with the finest seasonal hits!
Halloween is a night of enjoyment and fantasy. And there is no better reason to gather with close friends or family on an unforgettable autumn night. From yummy goodies and drinks, fall flower decor, and these other Halloween party concepts, you'll be sure to make it a fright night to remember.
Final Thoughts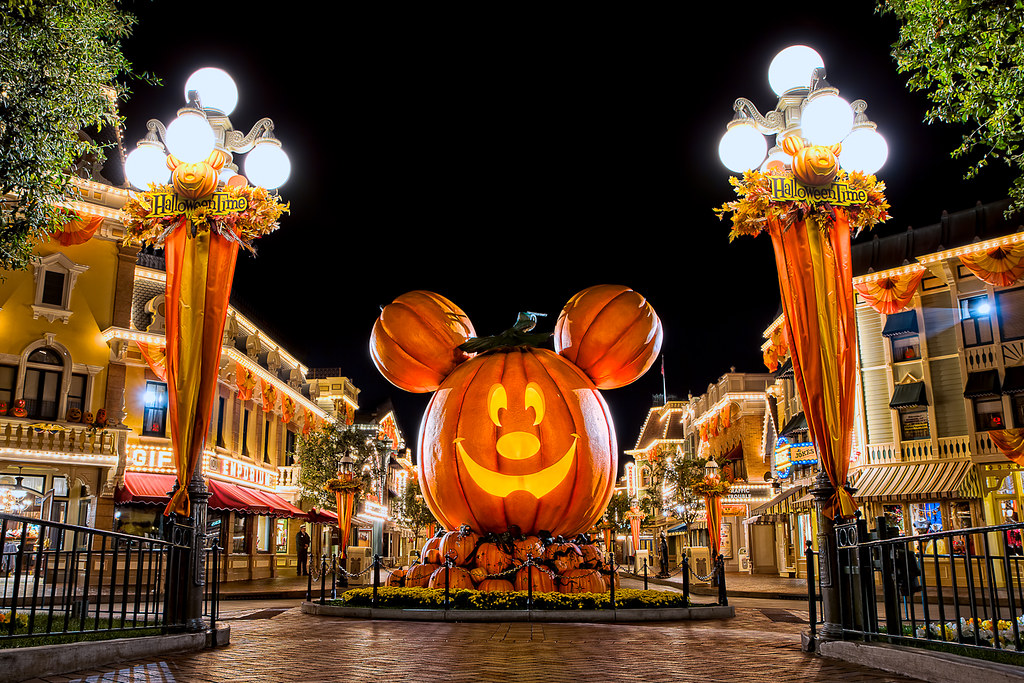 Which of these best Halloween places are you dying to visit next? And which ones have you already seen? Hopefully, this encourages you to hit the road during the next Halloween season and witness how other countries and cities celebrate this unusual holiday.
Whether you're fascinated by ghosts, creepy legends, witchery, or plain ol' family-friendly fun, there's something hair-raising in at least one of these Halloween-fanatical small-town residents. Which places sound the most captivating to you? Try something you haven't explored and check it out this year; you're in for a spine-tingling treat!
Anyway, the best way to celebrate Halloween anywhere you are in the world is by celebrating it with your family.
Book a stay in one of these Halloween towns.
References:
Disclaimer: This post contains affiliate links.
Sign-up now!
Start your digital nomad journey today!