Disclaimer: This post contains affiliate links.
Years ago, I went to Jamaica to travel and did as much as I could as a backpacker. The trip was an opportunity for me to go back to my family's country of origin and to see relatives, as well as explore the country as a tourist.
I managed to meet other travellers along the way. And even though Jamaica is a big tourist destination, it isn't seen as a destination for backpackers.
There are notably concerns around the safety and wellbeing of backpackers. And the cost to travel around Jamaica often isn't the cheapest. But you can make the most of the experience and still travel on a lean budget.
Why should you consider a backpacking trip in Jamaica?
You will have the opportunity to discover what Jamaica has to offer and to really get immersed in the culture of the island.
Jamaica offers different types of experiences, such as:
Beaches
Waterfalls
Mountains
Suburban life
Rainforest
Music
History
Rum
Dominoes
And more!
Where is Jamaica?
Jamaica is just off the coast of Florida in the United States and is south of Cuba. On a clear day, you can actually see Cuba from Jamaica.
Getting to Jamaica.
There are several flights that you can take to Jamaica. Most of the connecting flights come through the USA (Miami and New York), or Canada (Toronto) or the United Kingdom (London). You will fly into one of the two major airports. Kingston or Montego Bay.
What visa can you travel to Jamaica on?
You can enter Jamaica on a tourist visa for 90 days. You will either need a return ticket, onward ticket, and proof of funds.
The price of a Jamaican visa is $100USD.
You can find more information on Jamaican travel visas here.
What are some of the things to do in Jamaica?
Swim in the Blue Lagoon
The Blue Lagoon is really, really blue. It's very, very deep as well. It is where they filmed the movie with Brooke Shields in the 1980s.
I remember the water was cold and refreshing.
You will need to drive east of Port Antonio to reach the Blue Lagoon.
Drive through Bamboo Walk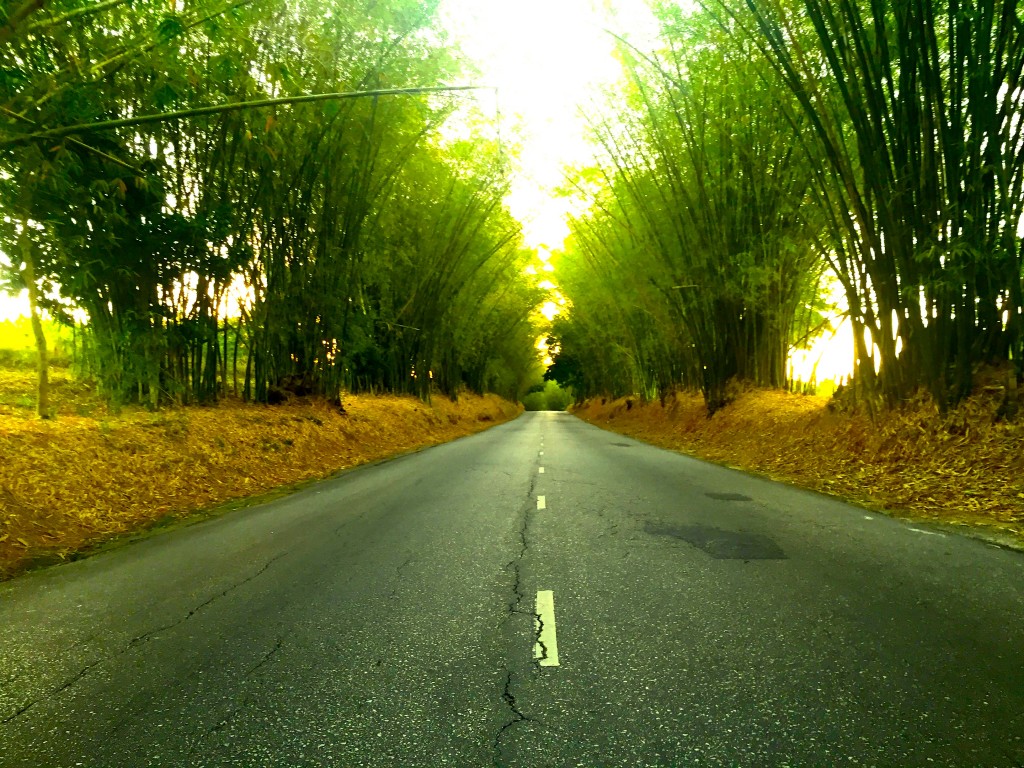 Bamboo Walk is a stretch of road that has bamboo trees covering it forming a tunnel. It's really quite special to look at and it is ideal for taking photos if you can get there early in the morning and avoid the traffic.
Climb up Dunn's River Falls
This is one of the places that we regularly used to go to in my childhood. You have the opportunity to climb these waterfalls. They aren't steep for adults, but they are fairly steep for children. You should focus on your safety to avoid falling or slipping on the rocks.
It is a refreshing experience. Although, there area a lot of tourists.
Reach Falls
This is another beautiful waterfall and I had planned to visit these waterfalls, but arrived too late in the afternoon. (At the time it closed at 2pm). So make sure you arrive early to experience Reach Falls.
You will be able to dive into the Rabbit Hole
Watch the video below to see more.
YS Falls
Out of the waterfalls that I've visited in Jamaica, I really enjoyed Y.S. Falls because of its beauty. It also isn't crowded with the tourist crowds that you'll find in Ocho Rios or Negril.
You'll either need to drive out there or jump on the tourist bus for the experience.
Jump off a cliff at Rick's Cafe
This cafe is famous for its holiday vibes. Many of the cruise ships send their patrons to Rick's Cafe for people to drink and enjoy their afternoon and evening to the sound of music and good vibrations.
The iconic thing about this cafe is the cliff jump. There's a small one and a big one. If you dare to take the jump into the aqua blue water below, you can leave with a memorable experience.
Below is a video showing what you can expect.
Try Blue Mountain Jamaican Coffee
Jamaican Blue Mountain coffee is one of the best coffee beans in the world. You can go up the mountain in your car or take a tourist drive and visit the coffee bean plantations and drink the coffee straight from the harvest.
Enjoy the music from a Soundsystem on Fridays.
It's very common to find music blaring from soundsystems in Jamaica. Expect to find people setup their Soundsystem on a Friday or Saturday and see the local people unwind.
Learn the history of the Maroons
One of the central pieces of Jamaican history is the Maroons, who were able to escape the British colonizers and maintain their own community.
Learn about Jamaica's heroes
This was really educational and eye-opening for me because a lot of the history that is known to the island isn't taught in the curriculum of the Commonwealth nations. Learning about the struggles to overcome slavery, and those that endorsed it in a time where prejudice was bound by law.
And the people that stood up for the right thing were the ones who paid for it with their lives.
Samuel Sharpe
Nanny of the Maroons
Paul Bogle
And more.
Visit the Bob Marley museum
Anybody that goes to Jamaica should pass through the Bob Marley museum to visit the old house from the king of reggae, Bob Marley. You'll learn a lot about the way of living there. When I went, I was surprised at how modestly he lived, despite the amount of wealth he had at his disposal.
Below is a video where I'm having a bit of fun at the front of the museum.
How much does it cost to travel around Jamaica?
Hostels
There are hostels located across the island. You'll be able to leave your belongings there safely and enjoy the experiences in the area that you've travelled to.
Try to book accommodation that is access to transportation and that isn't too far out of the way. And check the reputation for the security.
Hotels
There are several hotels in Jamaica. However, the price to stay at a hotel tends to be quite expensive especially during the popular travel seasons. A single night can cost anywhere from $200-400USD a night in the popular areas. And on the lower side, you may be paying $70-100USD per night
Campsites
There are campsites in Jamaica where you can choose to pitch your tent and camp. Or if you prefer glamping, you can rent a pre-made tent setup that is more on the luxurious side.
The cost to camp is cheaper than hotels on the island. So you may end up paying around $30 a night for a campsite, which will also give you access to amenities such as a place to shower and electricity.
I've previously used Agoda to find accommodation deals in Jamaica.
Food
Authentic canteens
If you visit Montego Bay, I recommend that you go to the Old Town (which is Downtown). Usually, people stay at the tourist strip where the resorts are and eat the food there. But if you go to the Old Town, you will have a wide variety of market foods and canteen foods that's enjoyed by the locals.
I'd visted one canteen, where I bought curried goat with rice and peas.
Juici Patties
The franchise Juicy Patties can be found all over the island and their core food offering includes Jamaican patties filled with beef, chicken, mutton, fish, or vegetables. Or you can get the soft cocoa bread.
It is heavy and filling. Not the healthiest, but very tasty and cost-effective if you want to eat something on the fly.
How can you get around in Jamaica?
Buses
Jamaican mini-buses are the most popular way to get around the island. They are the cheapest form of transport. However there are issues with this type of transportation.
There is no time schedule.
These are usually independently run and the drivers have their own routes.
A 9-seater mini bus might end up seating 20 people. Since the drivers make money per person per far.
The buses have independent routes. So you will normally need to ask the driver where they are going and rush to get a seat.
Safety isn't the biggest priority. The first bus ride we had, the driver was swerving and drinking whilst driving us down the mountain.
Taxis
The taxis in Jamaica are usually independently run as well. Similarly to the way the buses work, the drivers will usually charge and amount per person and will try to maximize the amount of money that they earn by carrying as many people as possible in a single ride.
So your 5-seater sedan may end up carrying 7 people.
I found this more convenient and safer than the buses, but the cost to take taxis adds up very quickly. So if you decide that you want to use taxis, plan your trip well in advance.
Rental car
I ended up hiring a rental car during my time in Jamaica because it was far more convenient to get around and much more timely.
I ended up finding one rental car place and hired a Suzuki Swift for 2 weeks, which was around £800 ($1200US).
Considering that I was travelling in a team of 2 and we needed to get around the country quickly in 2 weeks, it was a wise decision to hire a car because we could get to our exact destination. And there were many times that finding the exact accommodation was difficult because the road names didn't exist on the offline maps or there weren't any street signs. So you had to go to the local police station or ask locals to find the destination.
It's very likely that hiring a taxi would be needed. And you would lose the money that you saved by taking public transport in taxi costs.
Licensed buses
When I was in Kingston, they had introduced licensed buses to get around the city. These operated on timetables, were new, safe, and reliable. If you plan to stay in Kingston, you can rely on getting around using these buses.
Scooter Rental
There are scooters available for rent in the more popular areas. (Mainly tourist areas). You will need to be in one of the following areas.
Kingston
Negril
Ocho Rios
Runaway Bay
Should you choose to ride a scooter in Jamaica, please exert extreme safety measures in relation to other drivers and potholes. And always wear a helmet.
When is the best time to visit Jamaica?
Avoid the busy tourism season over Christmas through until March if you want to avoid paying premium prices for your trip. Prices for accommodation tend to be high during this period as tourists flock to Jamaica to escape winter in their home country.
How can you stay safe in Jamaica?
Be street smart when you're in Jamaica and listen to locals.
Try to stay in popular areas.
Don't carry or flaunt any items that can attract thieves or pickpockets.
Always leave your valuables in secure areas.
If you are a part of the LGBTAi community, be aware that there are rules and laws that can affect your safety. Read this article to learn more.
Travel Insurance
You can get travel insurance with most providers if you are travelling on a return ticket. If you have a credit card, check to see if they offer free travel insurance as a part of your credit card plan.
If you are travelling on a one-way ticket, you will need to get travel insurance through World Nomads.
Travelling equipment
The main thing that you need is a good bag to carry if you are backpacking. My backpacking bag of choice is a Berghas Backpack. It's more on the expensive side, but you can buy it once and it can last you for a decade or more if you look after it.
You can click here to buy a Berghaus Backpack on Amazon.
The biggest thing to keep in mind when you go on your backpacking trip to Jamaica is to have fun. Get to know the locals and discover the country and immerse yourself in culture. Enter with an open mind, leave with a tonne of memories.
Click here to download the Paid2Go app and start earning money from walking.
Sign-up now!
Start your digital nomad journey today!