Disclaimer: This post contains affiliate links.
I visited Sri Lanka a couple of years ago and thought it was one of the most amazing countries that I ever visited. There was something about the island culture, the food and the locals that really attracted me to the lifestyle there. I've personally been able to make local friends who reside in Sri Lanka and always tell me to come back. If only?
Rather than sit and think about it, I decided to look into a way of making it happen.
If you've wanted to visit Sri Lanka, but you've never been sure how to travel to and stay there, then this is the post for you.
Visa options for visiting Sri Lanka.
There are a couple of tourist visa options for visiting Sri Lanka. The first is opting for an electronic visa, which will allow you to stay in Sri Lanka for up to 30 days. (However, check the details on the immigration website). The fee will cost $40USD.
If you want to stay in Sri Lanka for longer, you can actually apply for a 60-day extension that will allow you to stay in the country for up to 3 months. To do this, you will need to visit the Sri Lankan immigration office and apply for the visa in person. The fee to stay an extra two months will cost $30 USD. You can use the map below to find your way to the immigration centre.
Getting to Sri Lanka.
Sri Lanka is an island south of India's Tamil Nadu. The best way to get there is by flying.
At the time, we were able to book an inexpensive ticket from Bangkok to Sri Lanka. Depending on the route that you want to take (i.e. direct or through India or Malaysia); as well as your budget, prices will vary. At the time, we opted for a direct ticket to Colombo.
When landing, you will actually be outside of the city in Negombo, which is slightly north of Colombo. From there, you can catch a bus into the city or opt to stay in Negombo and start your trip from there.
Accommodation options in Sri Lanka.
Accommodation prices in Sri Lanka can vary. I usually recommend to budget up to $2000 a month maximum, however that is to get accommodation that is more high-end.
A search for monthly rentals on Airbnb can help you find accommodation for as little as $400AUD a month, although the prices seem to average between $850-1200/month.
You can use the following sites to find long-term accommodation deals. While you are there, you can also ask locals to recommend places to stay as the prices tend to be cheaper for walk-ins compared to online bookings.
Budget accommodation in Sri Lanka Facebook Group
Getting around Sri Lanka
Private chauffeur
At the time we were there, we only had a tight timeframe of two weeks to see the country. Plus, we'd gone to a friend's wedding, so I decided to hire a car with a chauffeur to take us to destinations in Sri Lanka. There were a couple of reasons why I opted for a private driver.
The cost to hire the driver with the car was beneficial since we were in a rush and he knew the roads really well.
Driving in Sri Lanka requires different driving skills. I wasn't confident enough to drive on the roads, which are more chaotic than driving on Western roads.
I was prepared to spend extra due to our time constraints.
Tuk Tuk
You will find Tuk Tuks everywhere in Sri Lanka. If you want to get around in Colombo, it is very easy to hail a Tuk Tuk, which can take you to your location quickly and easily. It is also relatively inexpensive. Just make sure to have them use their meter.
Scooter rental
If you are happy to navigate on the road at your own pace, then renting a local scooter is a good option. This is a particularly attractive option when you visit the quieter areas of Sri Lanka like Mirissa. Filling up the tank in a scooter can be quite inexpensive, thus making scooter travel an economic way to travel.
Taxi
If you need to get around, contact Kangaroo Cabs. They also have an app that you can download.
Buses
There are cheap bus travel options in Colombo. You can view the timetable here.
Train
Taking the train in Sri Lanka is a great way to see the country at a steady pace. You can actually go from city to city and just jump off at a station as and when you feel like it. The trains aren't super fast, so you can actually take in the experience of the country at a nice pace. The one-way fare is relatively inexpensive. Expect to pay around $16AUD for a 1-way fare from Colombo to Kandy for a first class berth. You can use this service to find train options in Sri Lanka.
You can also read a more extensive travel guide on Seat 61.
Wi-Fi connectivity
This is probably the aspect that deters most digital nomads from visiting Sri Lanka. There is internet connection across the island, but the connectivity varies from place to place. Obviously, the best connections will be in the more developed areas of Sri Lanka, such as Colombo or Galle.
You can opt for a USB router and load it up with data. This will give you more freedom for accessing the internet whilst you are travelling. Alternatively, you can take advantage of the tourist pack, which provides up to 40GB for 1999Rs (approx. $17AUD).
Things to do in Sri Lanka.
If you want a new sense of adventure, you can't really go past what Sri Lanka has to offer. Whether it is living the city life in Colombo or chilling out by the beach in Mirissa or heading to the tea farm area in Kandy, there will be something for you.
Photography & videography.
One thing that I can promise you about Sri Lanka is that you will get the opportunity to take several photogenic pictures during your travels. The nature and the vast and vivid colours will jump out in the shots that you will take. If you are active with your DSLR Camera or if you enjoy posting on Instagram, you will get several opportunities to take beautiful snaps during your travels.
Get some inspiration with the video below.

Enjoy being outdoors.
If you go to the right areas in Sri Lanka, you can get up close and personal with monkeys and even elephants. (Although you should exercise caution)
Food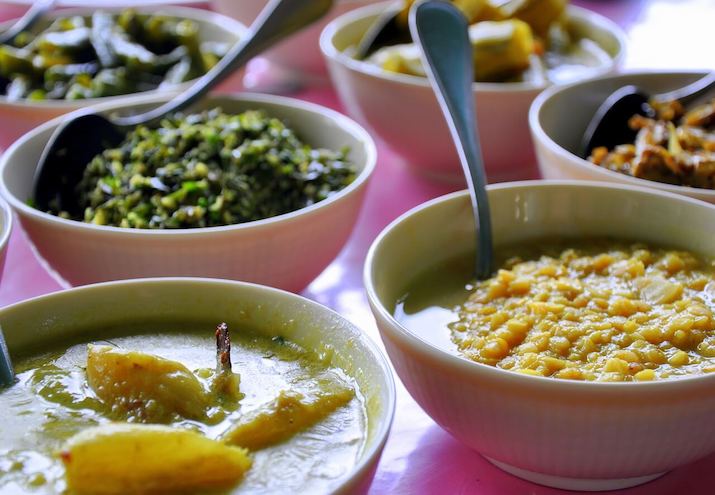 There is an abundance of food that you must try while you stay in Sri Lanka. There are several delicacies that are infused with coconut, local spices and intrinsic aromas that you will only find on the island. Sweet, salty, mains, entrees, desserts, you name it.
The best bet is to follow the recommendations of others. You can't really go wrong by following the recommendations from Yamu. Expect to pay 300 Rupees for an inexpensive meal and upwards.
Useful links
I've provided some other useful links that can help you with planning your stay in Sri Lanka.
The hidden tropical hub for digital nomads

Bonus!
Fully discover Sri Lanka by purchasing a tourist guide book that will tell you exactly where and what you should experience while visiting Sri Lanka.
Click here to see the travel book options on Amazon.
Sign-up now!
Start your digital nomad journey today!