In 2016, my wife and I decided to fly to Bali and stay for 2 months as digital nomads. The opportunity would allow us to explore the country, as well as live as locals and stay in a location long enough to embrace the culture and the lifestyle. It was an interesting experience. And what was more surprising was the cost to do it.
I'm an Australian citizen. And prices to travel from Australia to Bali vary depending on where you travel from. It can cost less than $100 if you travel from Darwin, however you can pay upwards of $400+ if you travel from other Australian airports. In our case, we travelled from Brisbane.
The cost of living was much cheaper than I expected if you travelled with the Australian dollar. If you travelled with currencies such as the British Pound or the American Dollar, your purchasing power in the country would be much stronger.
How did we plan our stay in Bali?
We'd arranged to stay in 2 places. The first was in Ubud in Bali. (I've previously written a post about living as a digital nomad in Ubud) The second place was in Denpasar, the capital city of Bali.
The two cities offered two different types of experiences.
Ubud
We actually stayed a 30-minute motorbike journey outside of Ubud. It was in Gianyar, which is quiet and we were surrounded by several rice fields. We were able to get studio accommodation, which cost approximately $900AUD/month at the time. This was inclusive of bills.
In Australia, unfurnished accommodation will cost at least $300 a week in Brisbane and more in the other major cities. When you factor in the other lifestyle costs, you will easily spend more than $2000 each month to cover the basic living costs in the country.
Below are pictures of the Villa that we stayed at and a map of the distance from central Ubud.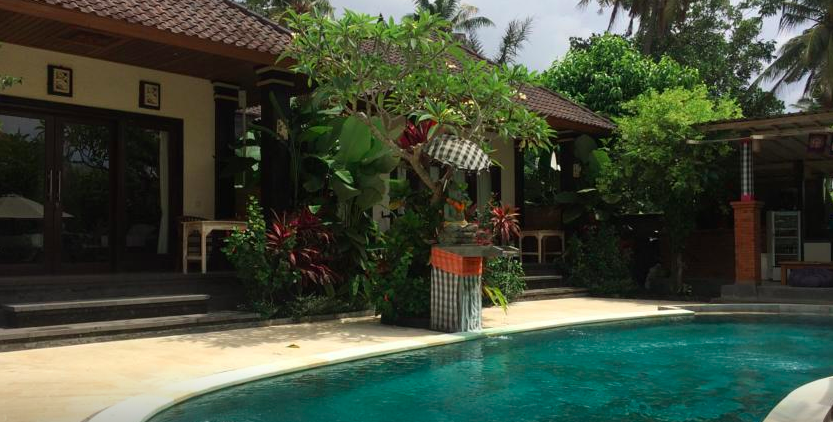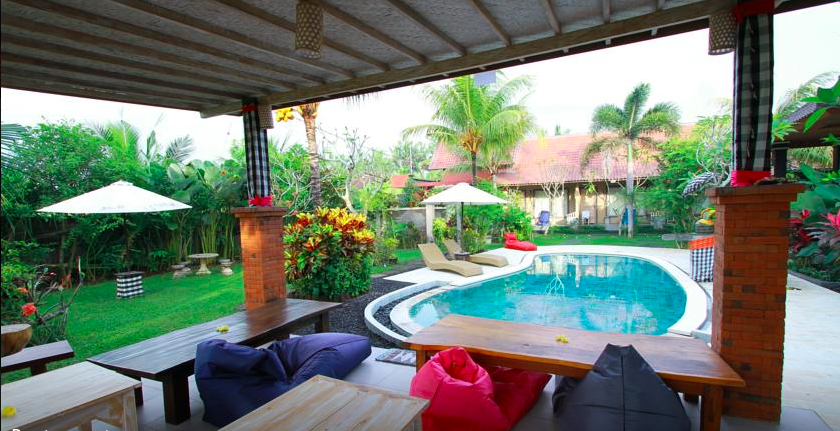 Here is a video of us during our stay.
The owner of the villa installed a pool and now serves breakfast as a part of the deal. I found one deal for two people staying in one villa costs $1104 AUD.
You can click here to calculate the rough cost of a booking.
Pros
Where we stayed was quiet and tranquil. At the time, it had a pond and an oasis garden. The villa now has a pool. It was also very safe. Food in the local area was very, very inexpensive. However, we did notice that it was difficult to get fresh fruits and vegetables, which did affect our energy levels.
Cons
Unfortunately, the internet connection at the property wasn't that great. It was a common thing that we found in Bali. We actually had to travel to the gym, where we paid a monthly fee to access a quick and reliable internet connection.
This affected the productivity for working as a digital nomad. We did work around it, but in hindsight, it would have been better to find accommodation that was closer to the centre of town (such as closer to the Monkey Forest) and have an internet connection that was much more reliable.
A the time, I was doing more writing work; so I was fairly unaffected. However, if you require an internet connection to complete the work that you are doing, then the downtime will severely impact your productivity and you may need to consider being in a place where there is good internet accessibility or even considering a co-working space in Ubud.
Denpasar
Denpasar was an interesting place to be located. It is a major city with alot of traffic and alot of noise. It's not until you are in the city that you will start to notice some of the things that may affect you as a digital nomad.
We stayed next to one of the main roads and as soon as it was early morning or late evening, the traffic would be atrocious. The pollution in the city and the lack of infrastructure was also frustrating. The hotel that we stayed at was very nice on the inside, but was undergoing construction work from 7am until 6pm, with constant banging throughout the day.
This type of thing could happen anywhere. But it's less likely to happen in the built-up areas.
The internet connection was very poor as well. It was almost impossible to get a signal. In the end, we had to find a coworking space and we found two that were nearby. (We ended up settling for the Sara Residence, which was nice and quiet.) The only issue was the mosquitos in the evening and they had to fumigate the area. But if you stayed in their accommodation, you could easily go upstairs.
As for food, there was an open market 5 minutes away. We were eating vegetarian meals at the time and we could eat 2 full meals a day for less than $10AUD for 2 people. It was more than enough for us. The food at Sara was also affordable, but being a hotel they obviously charged a slight premium for their meals. But it was nice and a different experience as well. Additionally, the staff were all polite and it was a great experience being there. It definitely made our stay in Denpasar more enjoyable.
It was also interesting to see that they had accommodation options in other areas in Bali, such as Canggu.
Other options
Canggu
We actually visited Canggu and the thing that stood out to us was the balance between the countryside and the beach, whilst being fairly close to the city. Canggu is surrounded by several rice fields and there are many villas, cafes and restaurants that are catered for foreigners visiting the area.
The internet connection is more stable in the area. There are also coworking spaces nearby if people want to access the internet. (Although, you should expect to pay a premium fee for the service).
Some of the great things that were appealing about Canggu included:
Access to the beach
You can head down to the beach and surf (or learn to surf). There's also a bar that sits on the beach and street food vendors.
Drive through the rice fields
There are endless rice fields. You can jump on a bicycle or a scooter and enjoy the surroundings of the rice fields.
There is an expat community in the area.
If you would like to meet other like-minded people, then you will find them in Canggu.
Easy access to the tourist destinations.
If you do want to visit the tourist areas such as Kuta or Seminyak, it isn't too far away. You can head into the bar and club areas and dance the night away.
There's a more thorough guide that you can read on Goats on the road.
Thinking about heading to Bali? Start planning.
I'd recommend that you purchase the Bali Lonely Planet guide so you can experience everything that Bali has to offer. Another site that you should bookmark is TripCanvas, with its guides and activity suggestions written by locals. Then budget for $2000-$3000 a month for your stay so you can experience Bali without missing out on anything.
Sign-up now!
Start your digital nomad journey today!