Disclaimer: This post contains affiliate links.
When travelling to Tokyo in Japan, one of the major expenses that you will have is the accommodation. Spending around $100USD a night isn't uncommon. And if you want to make your budget stretch further, you will want to stay in accommodation that is 1/4 to even 1/2 of that price.
You also want to have a good experience during your travels.
There are a few hostels in Tokyo that are budget-friendly, safe, and located in areas that make it easy to commute and explore the city. In this post, we've shared a round-up of some of the top hostel options that you can consider staying at while you visit Tokyo.
What can you expect to receive if you stay in hostels in Tokyo?
There are shared facilities in the hostels. At minimum, you will share:
Hostel bedrooms
A room with other guests, whereby you will be renting a bed for the night. The bed is likely to be a bunk bed. Some hostel beds add a bit of privacy with curtains, so you kind of have your own private space.
Most hostels will also offer private rooms for a higher price. You can share this with another person or get a single room to yourself.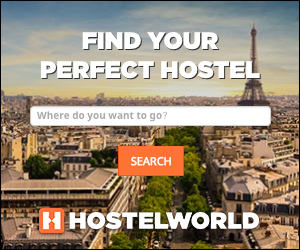 Wi-Fi
This is usually free internet that is shared throughout the accommodation. However, you should be aware that because the internet connection is shared by so many people, the network might be slow.
Cooking facilities
There's usually a shared kitchen space where you can prepare your own food such as breakfast, lunch, and dinner. You can also buy items and store them in the fridge or cupboard. This will help cut down on the eating expenses.
So you might opt to have breakfast at the hostel in the morning, pack some lunch to carry, and then eat your dinner at home.
Basic amenities
You should get basic amenities such as toilet paper, soap and cleaning facilities, tea and coffee.
Is staying in a hostel in Tokyo the right type of experience for you?
If you are the type of person that loves minimalist travel with your backpack, the backpacker lifestyle, socialising, meeting new people, and having a sense of adventure to explore; then a stay in the hostel will be right for you. There may be parties and social gatherings into the night. And usually, your company will be that of budget travellers doing their best to have a good time. Frugal, but fun.
If you prefer a more quiet and private experience, you will be better booking a private room in a hotel or AirBNB. Or for a more luxurious experience, consider staying at a Ryokan or resort.
What's the average price for a bed in Tokyo?
Expect to pay anywhere from 2,000-5,000 Yen ($15-37USD) per night for a bed.
The price depends on a few things such as:
Location and proximity in Tokyo
The amount of beds in a room. Typically, the cheaper the price, the more beds there are in a room.
The quality of the hostel.
Where are some of the best hostels to stay in Tokyo?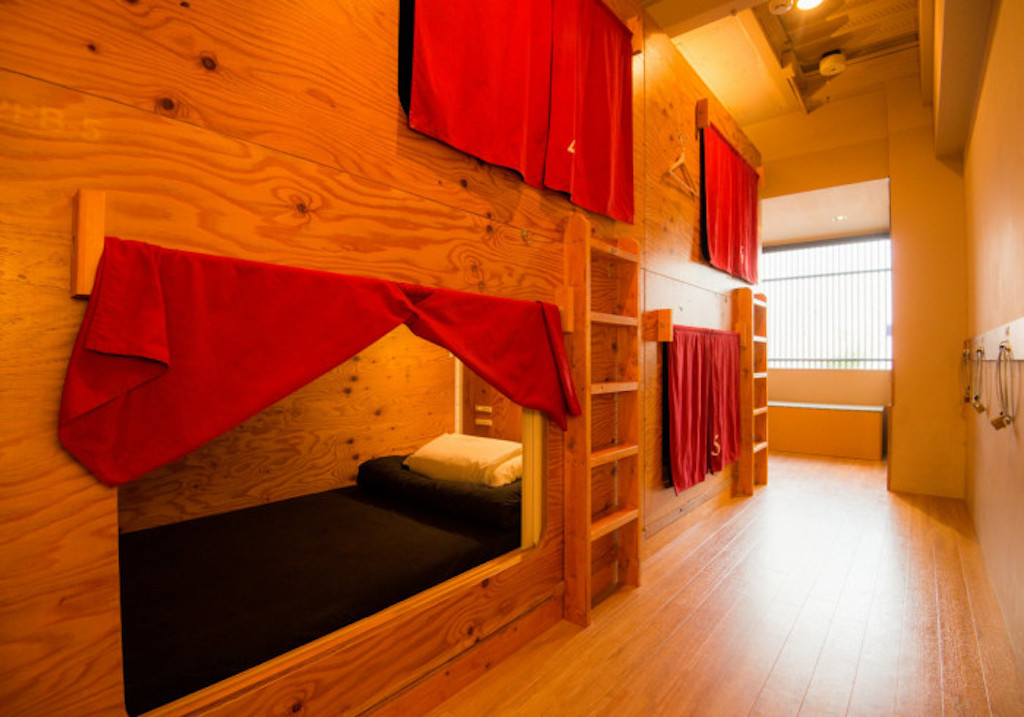 This is one of the popular hostels based in Akasuka in Tokyo. It's close to the train station and is located behind the landmark Sensoji temple, which makes it convenient to travel while you are based in Tokyo.
Many travellers rate this hostel for its value for money.
Watch the video below to learn more.
You can expect a comfortable setting and beautiful views from the common room.
Hop Step Inn
This hostel is located to the north of Tokyo city. You can expect to stay in a lovely, clean place that offers personal lockers to keep your belongings secure.
The bathrooms and washrooms are very clean, which is hard to find in most hostels.
It's a family-friendly hostel that has good transportation links with the JR line.
Haru Hotel
Haru Hotel is located in Shinjiku City in Tokyo, which is to the west of central Tokyo. Haru Hotel is located 15 minutes walk away from Shinjiku train station.
Whilst staying here, you will have an opportunity to sleep on a traditional Japanese Tadami. Or stay in one of the dormitories in the beds or bunk beds provided.
Something else to keep in mind is that it is located in the Korean-town of Tokyo.
If you're lucky, you might be able to secure a bed from as little as $10 per night.
Unplan Shinjuku
Unplan Hostel is one of the best rated hostels that you will find in Tokyo. The hostel is located to the west of central Tokyo and is a clean and spacious hostel, that also offers separate female-only dormitories.
A few things to keep in mind include:
Rooms are comfortable and the cubes have everything you need including:
USB connection
Bed light
Hangers
A locker.
There's also a nice kitchen area and chill out spaces to play Nintendo, listen to music, or to hang out.
CITAN Hostel
CITAN Hostel is another well-rated hostel that is located in Tokyo and is close to public transport. If you want a quiet place to sleep, then CITAN is definitely a hostel that you should consider.
There is a good bar and cafe. And even more importantly, a friendly atmosphere.
Kaisu
If you are after good value for money, then head to Kaisu hostel, which is located in Minato city. It's nice, cosy, and friendly. However, there isn't a place to cook your own food so you will need to eat out.
Capsule hotels
You can consider staying at capsule hotels located in Tokyo. The prices start from around $33 per night, which is more than at a hostel. However, you will get an extra sense of privacy and security. You will also get your own amenities such as a USB charging port, lighting, fans & heating.
Thinking about a long-term stay in Japan?
Read "Visiting Japan as a digital nomad".
Read "Is it worth staying in a hostel as a digital nomad."
What are some other things that you should consider for your Tokyo trip?
Japan Rail Pass
Getting the Japan Rail Pass will allow you to discover the different areas of Japan over 7-21 days, depending on the pass that you decide to buy.
Flights to Japan
You can check the flight comparison sites like Skyscanner to find inexpensive flights. If you can, purchase one way tickets to curb your travel expenses.
Learn to speak Japanese
Most Japanese people in Tokyo will have some basic command of the English language. But you should do your best to learn some of the basic Japanese phrases and sentences to help you get by. There are several books and courses that can help.
If you would like to learn Japanese quickly, watch the video below.
If you really want to progress quickly, buy this course and get a good command of Japanese in the next 2 weeks.
Hiring a bicycle to get around.
You can cycle on the roads or cycle paths around Tokyo and see most of the sights that Tokyo has to offer.
You can watch the video below to get an idea of what to expect when exploring Tokyo on a bicycle.
If you get a chance, try to take part in an organized bicycle tour.
What are some of the things you should see, do, or experience while you are in Tokyo?
Food
Japan offers some of the best and unique food in the world. There are so many things that you must try while you are in Japan.
Definitely head to the local streets and supermarkets to find popular street food, snacks, and meals.
There's food options for all budget types.
Yoshinoya
If you want to opt for inexpensive options, consider eating at the following places.
Yoshinoya is another great place to find Japanese food that is inexpensive. In my opinion, the food is good value for money. But it isn't the best place to experience tasty Japanese food.
For a few hundred Yen, you can get rice, meat, and side dishes. This should keep you going long enough throughout the day.
You can see more information on the Yoshinoya site and also in the video below.
Sukiya
This was one of my favourite places to eat when I was in Japan. You can get a meal set that offers the flavours of Japan for the equivalent of $6-7 per meal.
My favorite was the chicken on rice with Japanese mayonnaise. It was often served with Miso soup and there was usually a choice to get a side of fish such as salmon, and an egg.
Considering that the body needed a good amount of carbohydrates and protein to function thought the day, it was a fairly well-balanced meal that would sustain you for the majority of the day.
Below is a video showing what you can expect.
Grocery shopping at local supermarkets
Look for local supermarket chains to buy your usual groceries. The good thing in Japan is that there are ready-made Bento box meals that are inexpensive.
Below are the names of some supermarkets that you should look out for in Tokyo.
Maruetsu
Izumiya
Seiyu
Daiei
Ito-Yokado
ÆON
Tobu Store
Inageya
Gyomu Supa
Yoku Mart
OK
Below is a video that gives you an idea of what you can expect when doing your grocery shopping at a Japanese supermarket. This should help you plan where to buy your breakfast, lunch, or dinner while you are in Japan if you don't want to spend money at restaurants all of the time.
There's additional information here that also tells you which supermarkets can help you claim money back from tax.
Japanese bakery
You can swing into most Japanese bakeries and pick-up sweet or savoury treats to eat along your travels. These are usually inexpensive and should only set you back a few hundred Yen.
Below is a video of one of the oldest bakeries in Tokyo.
Family Mart
This is a convenience store that you will find on most street corners across Japan. You can get onigiri, which is rice with some filling inside such as beef, fish, vegetables, or chicken and sauce.
Izakayas
If you want to try something a bit different in the evening, you can go to one of the Izakayas in the evening, which serves barbecued meats along with alcoholic drinks.
If you're the kind of person that likes barbecued skewers, then this is something that you should consider doing if you want to do something socially.
Watch the video below to see some of the best Izakayas to visit in Tokyo.
Landmarks
There are several iconic landmarks that you should try to visit while you are in Tokyo. These include:
Sensoji Temple
The Sensoji Temple is located in Akasuka in Tokyo and is a Buddist temple. Goint into the temple makes you feel like you are stepping into ancient Tokyo. It is free to visit the temple anytime with the main hall being open from 6am to 5pm.
While you are there, you can toss some coins for good luck.
Hachiko Memorial Statue
The Hachiko Memorial Statue is the unofficial landmark is at Shibuya station. It's a popular landmark reference when meeting up with people in Japan. You will be able to visit this landmark and experience the Shibuya crossing, which is a stone's throw away.
Tokyo Tower
Looking at the Tokyo Tower will make you think of the Eiffel Tower. There are tours and events available at the Tokyo Tower (You can see more on their official website.) Make sure to bring your camera to take many photos and videos to capture your memories and experiences.
Ueno Onshi park
This is one of the oldest parks in Japan and if you can, you must try to visit this park during Sakura when the Cherry Blossoms flourish.
Inside the park, you have the fountain and the zoo that you can visit as well.
Definitely consider having lunch in this park during your travels in Tokyo.
Imperial Palace
The Imperial Palace is home to the Japanese royal family. There are guided tours that can be booked, if you want to visit the royal grounds and learn more about the history. You will need to book the tours in advance to reserve your spot in a tour.
Asakusa Shrine
Head over to the Asakusa district to see one of the most important landmarks to people that follow the Shinto religion in Japan.
Tokyo Skytree
The Tokyo Skytree became the tallest structure in Japan in 2010 and is a broadcasting and observation tower. There are several things that you can do including:
Visiting the observation deck
Watching the lighting of the tower.
Visit the galleries
Visit the shops
Check out the site to see what's on at the Tokyo Skytree.
Meiji Shrine
Make sure you visit Meiji-Jingu, which is a famous Shinto shrine located in Shibuya city. The shrine is easily accessible from Harajuku station. If you are lucky, you may get to come across a traditional Japanese wedding occurring here.
Shibuya crossing
The crossing in front of Shibuya train station is one of the most popular landmarks in Tokyo and is a unique sight to behold.
For a good aerial view, go to the Starbucks across the road and order a coffee.
If you go during the peak hours, you will be able to watch the swarms of people crossing the road.
Tokyo Disneyland
If you are a fan of Disney, then book a day trip to Tokyo Disney to enjoy the company of your favourite Disney cartoons and the chance to enjoy exciting rides.
Parties and nightlife
Tokyo is known for its buzzing nightlife and you can always find places to party around the city.
Roppongi is best known for its clubs and party nightlife.
Below is a video showing a bit of the party scene.
Geisha spotting
If you want to see Geishas on the streets in Tokyo, you will need to visit one of the six Hanabachi areas. The main places to see Geisha are:
Shinbashi
Yoshicho
Hachioji
Mukojima
Kagurazaka
Asakusa
If you want to see them on the streets, you will have to try your luck watching them going to their appointments.
Try heading to Kannonura Street in Asakusa, Kenban-dori in Mukojima or the alleys of Kagurazaka.
By now, you should be ready to book your hostel adventure in Japan. Book your flight and your first hostel stay, and enjoy the experience that Tokyo has to offer!
Resources
Nomadic Matt – Best hostels in Tokyo
Hostel Geek – The 3 best hostels in Tokyo
The best hostels to book in Tokyo, Japan
This list is based on our personal experiences and/or reviews online. If you own a hostel in Tokyo that you would like to add to this list, email us at lollivia.com@gmail.com with the subject: Best Hostels in Tokyo.
Sign-up now!
Start your digital nomad journey today!