Disclaimer: This post contains affiliate links.
I decided to write this post because I am in the same boat trying to make extra money as an influencer so I have more time to travel, enjoy outdoor activities, and live the life that I really want to live instead of being confined to a desk or working in a job that I dislike, whilst being caught up in the rat race.
There are so many more ways to make money as an influencer compared to when I started on my journey years ago. I will try to keep this page updated so that you can use this as a resource to find opportunities that will help you earn extra income as passively as possible.
You will need to put in the work to create the opportunity. But all being well, if it works well, you will be able to earn enough extra income to treat yourself to the nicer things. Or you might make enough so that it is your full-time income.
Sign-up to influencer marketing platforms.
There are influencer marketing platforms that are brokers between businesses and agencies and the talent of influencers in their market. I have signed-up to a few to see if I can get paid opportunities.
It does depend on the demand from the businesses, your audience, niche, reach, and the value that the businesses expect to get from spending their money on you.
I had someone reach out to me via a cold email and I thought it was spam. When I checked it out, I decided to give it a shot to see if it had any merit and it turned out to be the real-deal.
This platform has been my highest earner this year, with $600USD being earned in income.

One the job is completed and approved by the client, the payment is transferred via Paypal after 15 days.
I have received payment for every job exactly when they said they would deliver it.
The experience through the platform and the clients that they work with has been pleasant as well.
In my case, I was able to earn around $100US for each job. However, I believe that if your platform has significant reach, you can charge more.
If you would like to sign-up, click on this link to sign-up to the platform and browse through the different jobs that's on offer.
Create a compelling profile and start pitching yourself for paid influencer jobs.
Afluencer
I signed up to the app a few months ago and I've not had success with it so far mainly due to the limitations of the opportunities available. I managed to get one where they offered me $80 to record a script in front of a video. However, I wasn't comfortable with the wording as it didn't sound genuine. And when I proposed to make some slight amends so that it did sound more genuine, my proposal was refused.
I did have another opportunity to write a review in exchange for a $25 Amazon gift card (which was offered to the first 30 respondents), but I refused to take that opportunity as well.
The opportunities seem to be targeted at the US, and social media platforms rather than websites. You also need to have a minimum amount of followers on your account as well.
If you are US-based, I think it's worth checking Afluencer out.
Tribe
Tribe is really catered for the social media platforms like Instagram. If you have enough followers on Instagram, which is usually around 4000 or more, you should be able to get enough opportunities to create an income for yourself through the platform.
I've not successfully earned an income from this platform. But my brother has and I believe he earned around $150 for posting a photo to promote a product.
Sell products or services using affiliate marketing.
Amazon Associates (Affiliate)
I've been fortunate to grow my income via the Amazon Associates program (albeit small in comparison to what others are doing); however it a channel that consistently generates conversions, commissions, and pays on time.
I've had issues with other affiliate programs that either don't pay their commissions or unexpectedly shut down their affiliate marketing program. With Amazon, they confirm and send through the affiliate payments at the end of the month for the commissions that were earned 3 months prior.
In my very first month of conversions, I earned less than $1.
Currently, my peak month is around $200.
The lower months are $50-100.
Over the year, earning $1000-$1300 seems to be the current ballpark.
Below is a screenshot showing my earnings from Amazon Associates program.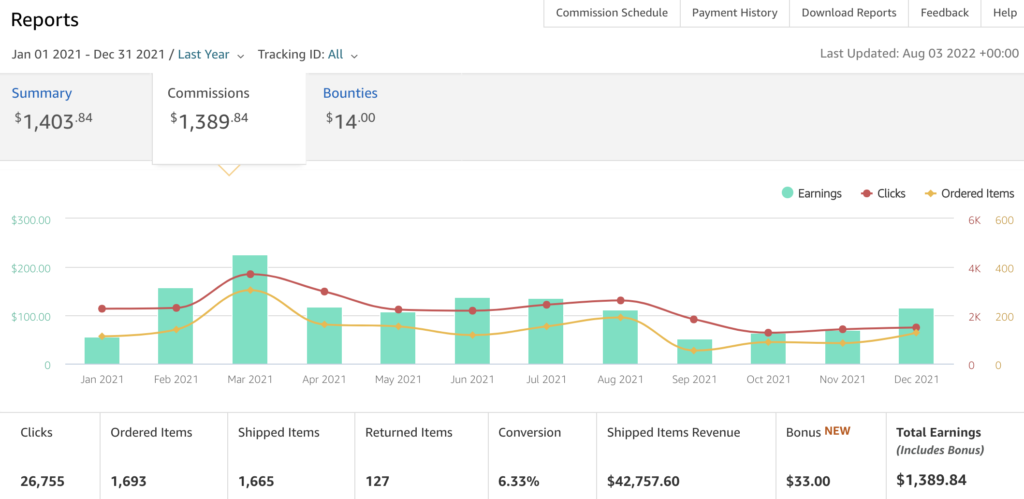 I was poised to earn more with Amazon Affiliates prior to them lowering their commission rates. So it's now much more challenging since many of the products that I've been promoting earn 1-3% commissions. If I'm lucky, I might get something that pays 4% or I might get a Bounty bonus of $3 or $10 here and there.
One thing that is frustrating about the Amazon Associate's program is when you lose your referral commission due to whatever reason. (Fraud, returned product, etc). It can be disheartening, but you just have to keep on selling more products via Amazon.
How can you maximize your chances to make money as an influencer using Amazon Associates?
You need to be able to pitch your affiliate link to people that will click the link and buy a product. So you need a high volume of people to buy using your link. To start making any kind of decent money, you will need to get over 1000 clicks per month on your affiliate link. And you will need to scale that to 100,000 clicks per month or more to make the kind of money that will support your lifestyle passively.
Bookshop.org affiliate program
This is a new one that I'm trying out as an alternative to Amazon Affiliates. This one pays 10% commission per transaction compared to Amazon's 1-4% commissions. I've not been able to successfully convert a sale yet. But you can direct link to the product.
The products tend to be books, so the commissions aren't going to be very high. But if you can convert enough at a high volume, you can start to make a bit of money.
Earn money as an influencer from advertising networks.
Adsense
Adsense is a pretty easy way to get started if you are able to get approved. You will realise that you are able to make money from the content that you provide. The downside is that you need a lot of views on your content to make any serious money. And this differs depending on the type of content you're publishing and the platform that you are publishing the content on.
For example, if you publish video content and put it on YouTube, you can expect to earn around $0.02 per view. (Sometimes lower, sometimes higher. But this depends on a number of factors.)
If you publish text content in the form of blogs or articles and have Adsense on the site, you can either get paid based on a percentage of the revenue from the click or impression. In my experience, the revenue from the clicks differ. I've had several clicks that only pay $0.01. And then I've had some that pay $2-4 per click.
To succeed with this, you need to drive high-volumes of traffic to these pages that display Adsense so you can get paid.
The other challenge with Adsense is that it is subject to Ad Blockers. So there's a chance your content will display, but the ads will not, meaning your income source is invalid. So this is something else that you need to consider with your monetization strategy.
Below is a screenshot of an Adsense revenue report breakdown.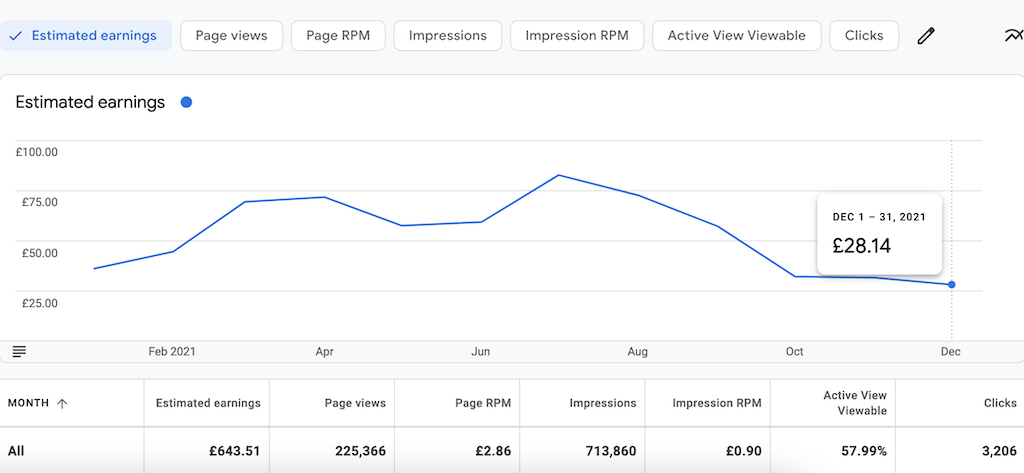 Another ad platform that you can take advantage of is Ezoic.
There are several publishers that use this as an alternative to Google Adsense to earn more revenue everytime an ad is displayed on their website.
Based on their model, the earnings per impressions are higher. Although the amount earned overall seems to be only slightly higher compared to Adsense.
I chose not to go ahead with Ezoic because I was asked to link my Adsense account, which also shares several other websites that I own. However, if it was an account just for the one website, I would have considered it.
If you are just getting started with monetising your site's content, you can consider Ezoic as an option.
Click here to sign-up to Ezoic.
Sovrn
I have an account with Sovrn and got started with them years ago as an alternative to Google Adsense. At the time, I had their code displayed on my site. However, they wouldn't serve ads when the page displayed. From memory, I was earning on around 20% of the impressions on the ads.
I did a video about this on my business's YouTube channel.
This is one of the gold mines for blogging influencers. However, you need to be generating traffic in excess of 1000 visitors a day to even get any kind of consideration to be added to their platform.
The publishers using AdThrive tend to make a good amount of money. Making $2000USD a month or more is possible with the AdThrive platform.
You can click here to learn how to join.
Sponsored blog posts.
I've had quite a few cold outreach emails to me asking if I would be interested in getting paid to add a sponsored article to one of my blogs. If the right things are ticked, it can be a very lucrative arrangement, where you can be paid anywhere from $20-$1000 or more to post a single blog post, or even make an amend to an existing post.
Sponsored posts can affect your reputation. It's a way of potentially 'selling out'. So you want to make sure you find the right type of partner that is ideal for your type of content and your audience, so that it is a win-win all around.
You can share your contact details on your web platforms for people to enquire about your advertising services with you.
Downloadable products
I've managed to develop a website and system where I can sell downloadable info products in the form of ebooks, lead magnets, and training guides to my audience.
I've been able to sell them at different pricing points. $5, $10, $30, $50 and $150.
I've learned through trial and error. It isn't just creating something and putting it up for sale and hoping for the best. You need to create a compelling offer that incentivises the person to buy what you are offering.
I've also learned that the information that you're selling doesn't have to be large. I've developed a 10-20,000 page book that has got no sales and a 2-page training guide that has several sales.
You will need to find the right product-market fit for what you offer.
The other thing is you need to be able to sell your product at scale in your market. So as an influencer, you either need to have the market available or you will need to grow your database of fans or followers. If you have a market of 10,000, you should be able to sell enough to fund your lifestyle.
The good thing about downloadable products is that it can work passively if you automate the payment processing and delivery. You can easily do this through a WordPress site using the WooCommerce plugin.
When starting, aim to deliver an MVP (Minimum Viable Product) that delivers the quality that your customer is expecting. However, don't invest too heavily without validating that the info product is something that your customers will actually buy.
Another option is you can ask people to sign-up to your list or you can take payments in advance using pre-orders.
Selling online courses
Selling online courses can be very lucrative for influencers. Courses allow you to sell information at a higher price point. And you can come up with different pricing strategies to make it affordable for your target audience.
You can sell online courses by taking an upfront fee, installment payments whereby the overall fee is slightly higher, or you can offer a membership subscription, which will allow you to predict your income every month.
One of the most common approaches is influencers building their list and then launching different products that people will buy at different pricing points.
It becomes quite lucrative once you start offering and selling high-ticket items. So if you offer a course that is say $1000USD, and you are able to sell 100, you will earn $100,000USD in revenue.
The success will also depend on the size and quality of your list of leads, fans, or followers.
You can set this up through your own website. Or you canc click here to setup one course for free on Teachable.
Dropshipping products
I just got into the dropshipping game and the good thing about it is it is quite lucrative if it is executed well. When you do affiliate marketing, you get a percentage of the sales revenue. For example, 10% of $10, which is $1.
When you are collecting orders and fulfilling them, you will be generating a return on investment. So if your product costs you $10 to buy and fulfill, and you are selling it for $20, then you are making $10 gross profit. (100% ROI).
To scale this, you will need to find the market that wants the products that you can dropship.
An easy way to get started is to sign-up to AliExpress and search for products that you can offer. Setup an online store (This can be a WooCommerce site), add the product with some copy, and then share the web page with your audience.
To import products quickly, add this plugin. This will allow you to import several products rather that doing it one by one.
Before selling the product, check the reviews and order history to ensure that you are selling a good quality product. Or order a sample to check the quality prior to selling it to your audience.
You might also be able to contact manufacturers directly and agree to an arrangement to have them dropship the products on your behalf. But if you are new to this, start with AliExpress.
Podcasting
I used to do podcasting and I didn't make money directly through the podcast itself. If you have enough listeners, you can sell advertising and sponsorship. Or you can even ask members to commit to a paid subscription.
The way I used to earn an income from my Podcast was by inviting guests onto my show and then receiving business referrals or enquiries through the platform.
There's a few keys to podcasting successfully.
You need to present interesting content.
You need to deliver value.
You need to be consistent.
This means bringing on guests that will spark curiosity with your audience. Your podcast is a platform for you to amplify voices, thoughts, discussions, and more.
If you want to take it a step further, record the podcasts that you're doing so that there is a visual element and you can post them on the various channels.
Brand ambassadors
Becoming a brand ambassador for a company.
You can reach out to companies that offer products or services that align with your brand and your audience and become an ambassador for that brand. You may get benefits in terms of sponsorship, products, merchandise, commissions, and more.
Become your own brand ambassador.
You can develop your own brand of products or services and you can make yourself the face of that brand. Alot of social media influencers do this by launching their own merchandise. But you can create tangible or information products and sell them, with you being the brand ambassador and influencer for what you are selling.
Earn free Cryptocurrency
I'm no expert on this, but one of the things I've done is take the tests on the Coinbase app. I've then earned a few dollars in free cryptocurrency. All being well, some of those cryptos will take off and become lucrative in the future, and I can sell them for a profit.
You can use this link to earn $10USD in free BitCoin by signing up to Coinbase.
Investing in cashflow stocks and shares.
You will need money in advance for this tactic. You can get paid an income from the dividends from any shares that you own in a business. Something to keep in mind that the money earned from the stocks and shares are a bonus, and definitely get more interesting if you have access to a lot of cash.
You can expect to earn a dividend of 1-5% on average compared to the value of the shares or stocks that you've invested in.
If you have invested $100,000, you should be able to earn $3,000 passively each year. $1,000,000 should give you $30,000 per year. And $10,000,000 should give you $300,000 per year.
You just need to invest and reach those high numbers as quickly as possible.
You can go through stockbrokers. However, if you are comfortable doing trades by yourself and you want to do it for a cheaper price per trade ($5 vs $20 if you go through the banks trading platforms, and $70+ through brokerage houses); you can use Interactive Brokers.
Bonus: Click on this link and get $1000 in free stock.
What are some ways you can grow your influence?
Personal brand
You can develop a personal brand that is attached to your name and image. Your personal brand will be tied to a niche or niches. The good thing about this is you can potentially be one of the leading figures in your niche and earn the lion's share of income in the market.
On the downside, it is unlikely that you will be able to remove yourself from the operational activities. So you need to always engage your audience.
There's also a risk that something could affect your personal brand or niche, which will make it more difficult to pivot. This could result in a decline in your influence.
Third-party brand
The benefit with this approach is that the brand doesn't depend on you. This means you can remove yourself from the activities to keep the brand going it it will still operate successfully without you. Or you can delegate or sell the brand to someone to manage.
Ideally, the brand will be evergreen. So if a change occurs in your life, your influencer brand will remain unaffected.
How can you start making money as an influencer?
Check out the useful resources provided below. You will need to pick a niche and decide if you want to build an influencer platform that is your personal brand or a non-personal brand.
Look at the top 3 platforms that you can leverage and that makes it easy for you to create and publish content.
You will need to publish content and build your audience. Your initial goal will be to get to 100, then 1000, 10,000, 100,000, and then a million or more engaged followers or fans that have the ability to buy products and services that you promote.
If you are stuck, choose one platform to publish video content, one platform to publish text, one platform to publish images, and one more to publish audio content.
Useful Resources
Web hosting Solutions
Siteground to build a WooCommerce site on WordPress.
Bluehost web hosting (If you plan to build 1 site)
Domain name hosting
Buy a web domain cheaply using Namecheap.
Investing
Interactive Brokers Trading Platform (Get up to $1000 stock free)
Online design tools
Create your influencer media pack with Canva
References
How to make money on social media as an influencer
How I made over $50,000 in 1 year travelling the world as a digital nomad. (Income Report)
Sign-up now!
Start your digital nomad journey today!